The vet repaired the turtle's shell with fiberglass and expected the fiberglass to eventually fall off.
A veterinarian who years ago repaired the shell of an injured box turtle came across the same turtle she treated while walking in the woods near her clinic.
A client had brought the reptile to Dr. Shannon Moore of Hocking Hills Animal Clinic in southeast Ohio, who treated the box turtle for a cracked shell and never expected to see the reptile again.
"Several years ago, a client brought me a box turtle that had been hit by a car. I used fiberglass to repair his broken shell and then released him in my woods," Moore wrote on the clinic's Facebook page. "Recently, while walking on my hillside, I spotted an odd pattern in the leaves. To my amazement, there was my old patient with the fiberglass still on … years later! Sometimes, being a vet is the best thing there is."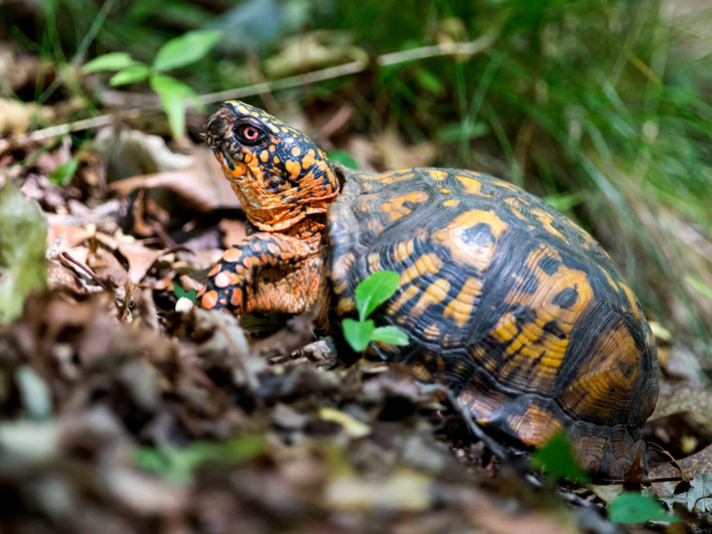 Dimitrios Pippis/Shutterstock
Box turtles are smaller turtles that are often kept as pets.

Advertisement
Moore wrote that she never expected to see the box turtle again, because if she did, she would have made the fiberglass she used to repair the turtle's shell.
---
Painted Turtle's Shell Reattached With Epoxy And Zip Ties
---
"If I'd known the fiberglass was going to stick around "forever," I would have made it more stylish! I assumed it would drop off rather quickly," Moore wrote on Facebook.
The repair has held up well, and hopefully the box turtle won't have any more encounters with cars.
Advertisement