A biologist's video showing the removal of a plastic straw from a sea turtle's nose has helped to spur change.
The video is as graphic now as it was back in 2015. An olive ridley sea turtle (Lepidochelys olivacea) with a plastic straw being removed from its nostril by biologists with the Leatherback Trust who were on an expedition off the coast of Costa Rica. When Christine Figgener recorded the eight plus agonizing minutes of her colleague working a pair of pliers to remove the plastic obstruction, she had no idea as to the impact her video would have on folks on social media, as well as in the corporate world.
Advertisement
"I thought I can really show what one object can do, what kind of harm it can do," she told Time.com. "You were able to show the suffering of a creature that was affected by a straw that someone had disposed of. Definitely that was an object that passed through human hands and made its way to the ocean," she said. "It had a very emotional effect on people and it definitely fueled the movement that already existed."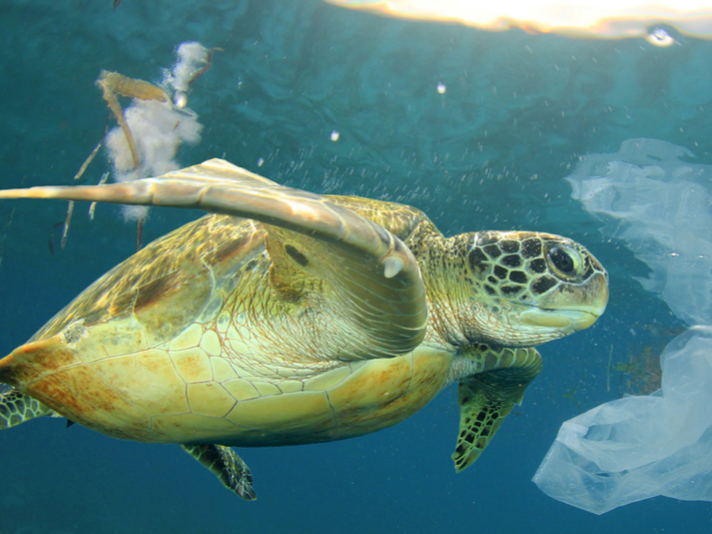 Rich Carey/Shutterstock
A sea turtle swims through ocean pollution.

Advertisement
The video, uploaded to YouTube, has been seen more than 30 million times in the three years since she shot the footage, and some say that it has helped spur discussion of the use of single-use plastics such as straws.
---
Sea Turtles Ingesting More Plastic Than 25 Years Ago
For The Sake Of Reptiles And All Living Things, Put Litter In Its Place
---
Starbucks announced earlier this month that it would stop using plastic straws by 2020. Hyatt will only make plastic straws and drink picks available upon request, and "eco-friendly alternatives will be provided where available."
Advertisement
Several airlines are removing plastic straws and will switch to eco-friendly straws and stir sticks. More companies are following.
According to the World Economic Council, by the year 2050, there will be more plastic in the world's oceans by weight than fish.
And Australian scientists Denise Hardesty and Chris Wilcox analyzed data from coastal cleanups in the United States and estimated that nearly 7.5 million plastic straws litter America's shorelines and 437 million to 8.3 billion plastic straws litter the world's coastlines.
Figgener told Time.com that people have told her that her little 8 minute clip has changed their habits with regard to the use of single use plastic.
Advertisement
"I hope that in five years time, we don't even need to discuss plastic straws. That there's too many alternatives," Figgener told Time.com.
As for the olive ridley turtle? The reptile was treated and tagged before it was released, and last year, while conducting research off the coast of Costa Rica, she happened upon a mating pair of turtles, and upon inspection of the tag on the reptile's flipper, Figgener realized it was the same turtle her team had helped in 2015.