The scrub python ate a stuffed cow, a toy stuffed cow.
A scrub python (Morelia amethistina) has a second chance at life after a veterinarian with Marlin Coast Veterinary Hospital in Australia successfully removed a stuffed toy that the reptile had swallowed.
The snake was brought into the hospital by Miss Hiss Reptiles, a snake catch and release service that serves Kuranda and the surrounding areas in Far North Queensland.
"We knew straight away it had a feed on something. The bulge in the middle of the snake was about the size of a chicken," Hayley-Anne Hill of Miss Hiss Reptiles told ABC News Australia.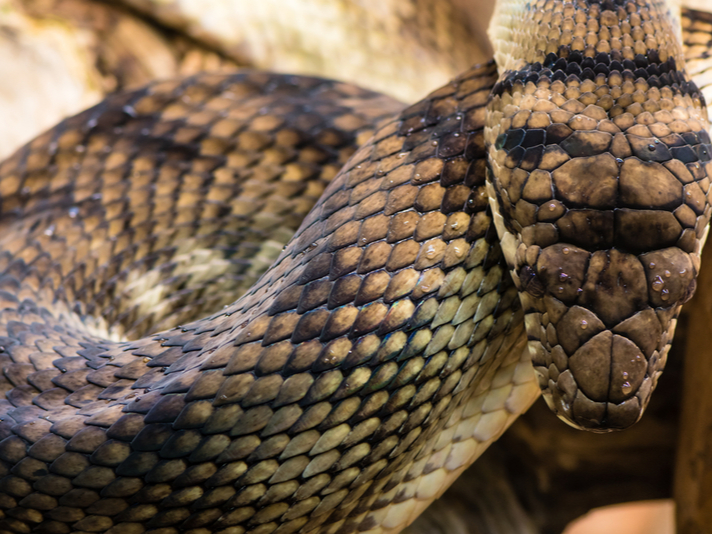 IANREDDING/SHUTTERSTOCK
Scrub pythons are very common in Australia and are the longest snakes on the continent.

Advertisement
"It was good they kept an eye on him otherwise we wouldn't have known it was a toy and it could've been detrimental."
---
Animals Eat The Strangest Things: Vet X-Ray Contest Winner Is A Pet Frog
---
Dr. Peter Barratt removed the stuffed toy from the abdomen of the snake and is now doing well after "a successful anaesthetic by the nursing team," Marlin Coast Veterinary Hospital wrote on its Facebook page. The stuffed toy, however, didn't fare so well.
"That's Cow," Alex Maher wrote on the Marlin Coast Veterinary Hospital's Facebook page. "And that's the snake that was in our daughter's bedroom. Big shout out to Swampie and the team of vets that rescued Cow and saved the snake."
Advertisement
"We're so sorry Cow couldn't be revived for your daughter, but thank you for calling Miss Hiss Reptiles so this snake could be rescued," the hospital replied. "Rip Cow!"
Staff at the facility named the snake Moo and is recovering with Miss Hiss Reptiles, which will eventually release the reptile back into the wild.
"She'll be with us for about six weeks and we'll make sure she can digest some food, then we'll put her back out to where she belongs," Hill said.
"Hopefully she won't go eating any more cows."
Advertisement