Ms Muñoz seeks funds for a leopard gecko enclosure.
Ms. Muñoz with Park Crest Middle School in Pflugerville, Tex. is looking for some help. Many of her students live in homes that do not allow pets, so she thought it would be great to enable them to garner experience caring for an animal in the classroom. So the middle school science teacher launched a crowd funding campaign on DonorsChoose.com in an effort to raise money for the class leopard gecko.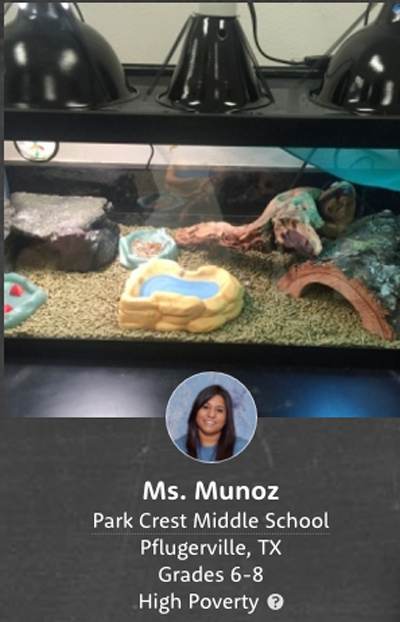 ms Muñoz
Ms. Muñoz is seeking donations to fund a leopard gecko habitat.

Muñoz wrote the following on the DonorsChoose Crowdfunding page:
"Teaching science allows me to bring animals into my classroom for my students to interact with. This opportunity is very important for adolescence since it allows them to learn compassion and responsibility. My students are such remarkable, incredible, and hardworking individuals."
Advertisement
"They are a very diverse group, and represent a variety of socio-economic levels, academic abilities, nationalities, and more. They have assorted backgrounds and and some live in homes where meeting their basic needs is a daily struggle."
"By allowing my students to create a terrarium ecosystem where they can study and interact with live animals, you are expanding, not only their minds, but also their hearts. Thank you so much giving my students the opportunity to learn, grown, and love."
Currently Ms. Muñoz is halfway to reaching her goal of $554. A breakdown of all the items that she needs to give the class leopard gecko a kick ass home is also listed on the page. If you can donate, or if you are a manufacturer and wish to appeal to the future, please do. Here is the link to the Donors Choose crowdfunding page.
Advertisement