Olga Jumenes was no stranger to law enforcement, the U.S. Attorney's office said.
A married couple who were caught trying to smuggle more than 900 sea turtle eggs into the United States from Mexico were sentenced to six months in prison. The U.S. attorney's office said that Jose and Olga Jumenes pleaded guilty to the charge in February, charges that included conspiracy, smuggling, and unlawful trafficking related to wildlife, the Los Angeles Times reported.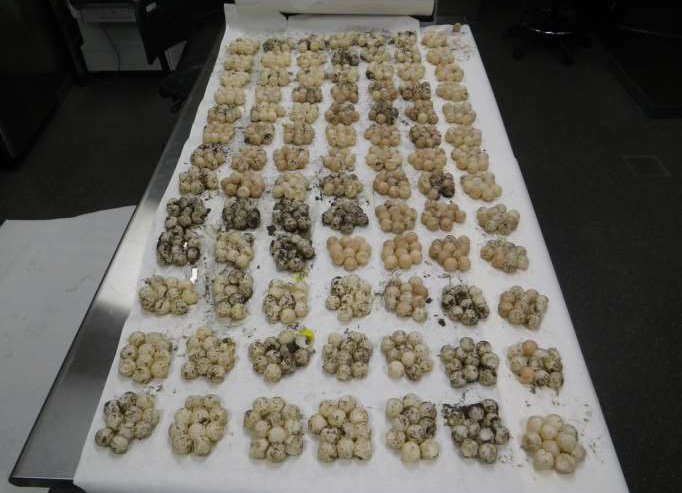 U.S. Attorney's Office
Jose and Olga Jumenes were captured in 2014 trying to smuggle more than 900 sea turtle eggs into Southern California.

The smugglers attempted to smuggle the sea turtle eggs in coolers that were layered with fish and shrimp on top. They had their sons drive vehicles across the border into California while they walked across. When the sons were stopped by border patrol, the contacted their mother that they were being searched, but she did not answer their calls or the text messages, according to court documents.
U.S. District Court Judge Janis Sammartino who oversaw the trial said that the seizure was the largest seizure of sea turtle eggs from Mexico.
Advertisement
Olga is no stranger to the court system as she has been penalized more than once from 199 ton 2013 for trying to bring protected species and seafood into the United States, according to the report.
A restitution hearing is scheduled for June to determine how much the couple will have to pay the Mexican government for stealing and smuggling the sea turtle eggs.
The eggs were stolen from Olive Ridley and Kemp's Ridley sea turtle nests. These turtles are endangered both in the United States under the Endangered Species Act and in Mexico under the Convention on International Trade in Endangered Species.
According to prosecutors, the sea turtle eggs are considered a delicacy in China, where they can fetch upwards of $300 each.
Advertisement