Arenaviruses seen as culprit affecting captive bred snakes.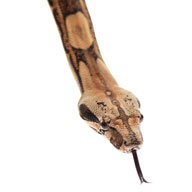 Captive bred boa constrictors and pythons have afflicted by IBD for several decades. Photo credit: Gina Cioli/Bowtie Studios
Researchers with the University of California, San Francisco have identified the virus that has devastated captive boa constrictors and pythons for several decades with a condition known as inclusion body disease (IBD). In their paper published in the open access journal mBio, the researchers determined that arenaviruses are the cause of a condition in captive snakes that causes star gazing, in which an animal stares up into the sky, as well as respiratory and muscular paralysis. The scientists, using DNA sequencing techniques were able to locate within a sick snake's DNA foreign genetic material, in this case nucleic acid that resembles nucleic acid in arenaviruses, a family of viruses that are associated with hemorrhagic fever in humans.
It has not been determined how IBD is spread, though scientists speculate that it could be transmitted through inhalation directly from an infected snake or indirectly via contaminated bedding or from handling. Mites, which have been found in snakes suffering from IBD may also be a source of infection. So far, the disease has been found only in captive bred snakes, though scientists are concerned that released captive bred snakes into the wild that are infected with the virus may spread it to wild snake populations.
The full paper can be viewed on the mBio website.