One of the stolen tortoises requires daily medical care.
Kingston Maurward college in Dorset on England's south coast shared on its Facebook page that four of its sulcata tortoises (Geochelone sulcata) were stolen from their enclosures August 23. According to the police, the thief or thieves broke into the college and entered a shed where the tortoises were housed.
The stolen reptiles are Squirtle, Wartortle and Blastoise, all aged 11, and Jeffery, a 24-year-old. They were apparently hauled off in wheelbarrows. All four of the tortoises, three females and a male, are micro-chipped.
Advertisement
"I am appealing to anyone who witnessed anything suspicious overnight in the area to please come forward, PC Chris Stephens, who is in charge of the investigation told The Guardian. "If you have any information that could assist with the investigation or have seen tortoises for sale in suspicious circumstances, please contact Dorset police urgently. We are desperate to reunite them with the college to ensure they are appropriately cared for."
---
---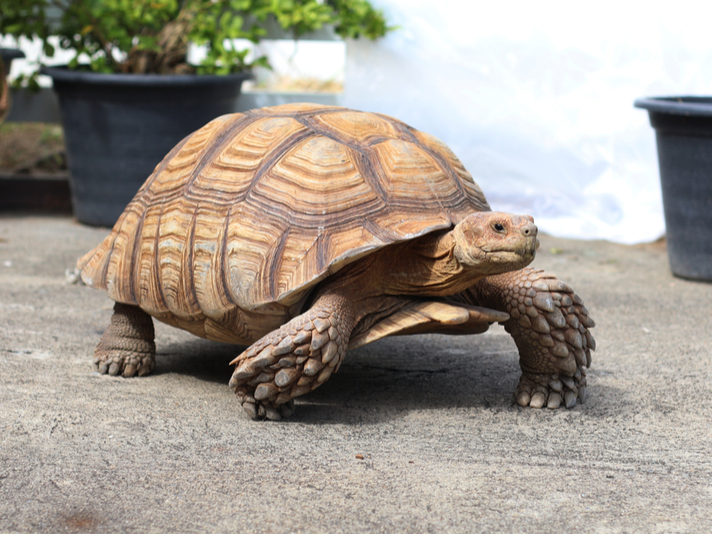 Zoo Design/Shutterstock
Advertisement
While cute as babies, sulcata tortoises can exceed 100 pounds in weight.

Sulcata tortoises are one of the most popular chelonians with advanced reptilekeepers. Widely captive bred, sulcata tortoises can easily attain more than 100 pounds in weight and can live more than 70 years, if not much longer. While cute as babies, sulcata tortoises grow quite large and require specialized care for the duration of their lives, which can easily exceed the life of their keepers.