These articles were the top 6 of the year and the top dumbest articles of the year.
2015 was a very interesting year for news. Reptiles were trending often in the mainstream media, with some good news and some not so good news. While there were a lot of new discoveries in the world of reptiles and amphibians, most of the news skewed to the bizarre (at least to non-reptile lovers) to the downright stupid. Californians gave Floridians a run for their money when it came to stupid things that stupid people do with reptiles, what with two Californians hospitalized for trying to take selfies with rattlesnakes (that always turns out well). At any rate, the first articles in this list are the top 6 trending news articles for 2015. The other five articles made the top 50, but I think that they were important to point out (or not) due to the stupidity and cruelty of some people. This is the kind of stuff that Darwin would loathe to see. So dumb that you can't make this stuff up.
King Cobra and Reticulated Python Battle Caught on Video
A fight between a king cobra (Ophiophagus hannah) and a reticulated python (Python reticulatus) occurred on the campus of Nanyang Technological University in Singapore August 27 and it was captured on video and in stills by photographer Abhishek Ambede. Read More
Advertisement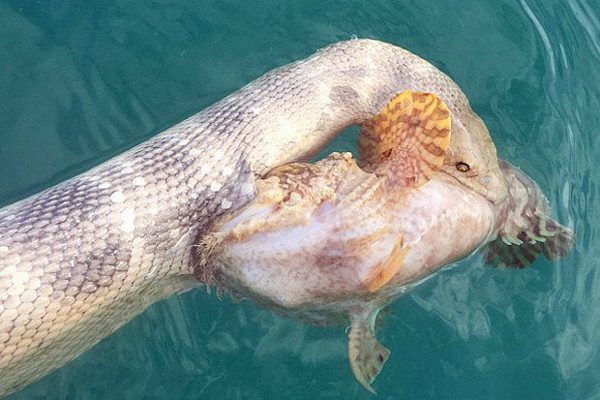 RICK TRIPPE
This sea snake and a stonefish were essentially in a stalemate when diver Rick Trippe happened upon them and tried to separate them.

Sea Snake and Venomous Stonefish in Epic Jaw Lock Battle in Australia
A sea snake and a stonefish, both venomous creatures of the ocean, were battling it out in Darwin Harbor, Australia when Australian diver Rick Trippe happened upon the duo and made an attempt to separate the predator from the prey. Read More
Advertisement
Snake Cafe Opens in Tokyo and its Not What You Think
Cafe's where you can essentially view and rent cats while you sip your coffee have been around for years, but have you heard of a snake cafe? That's right, an entrepreneur in Japan has opened what may be the world's first snake cafe where you can view snakes, and for a small fee, handle a snake. Read More
This yellow-bellied sea snake washed up in Huntington Beach, Calif.

Yellow-Bellied Sea Snake Washes Ashore in Huntington Beach, Calif.
For the second time in as many months, a yellow-bellied sea snake (Pelamis platurus)has washed ashore on a Southern California beach, this time in Huntington Beach. The 27-inch-long dead male snake was found during a coastal cleanup campaign sponsored by the Surfrider Foundation, an advocacy group that fights for access to beaches around the world. Read More
Video: Researchers Remove Plastic Drinking Straw From Sea Turtle's Nostril
Researcher Nathan J. Robinson and Christine Figgener with the Leatherback Trust, an organization that works to protect sea turtles, were on an expedition off the coast of Costa Rica when they discovered an olive ridley sea turtle (Lepidochelys olivacea) that had an obstruction in one if its nostrils. The team initially though the obstruction was a tube worm and decided to extract the object from the turtle's airway with a pair of pliers. Just a few minutes into the removal process they determined that the object was not a tube worm, so they cut the part that they had managed to pull off and determined that the object was a plastic drinking straw, just like the kind that you get at your local restaurant. Read More.
Advertisement
Sea Turtle Wedged in Plastic Lawn Chair Washes up on Florida Beach
A sea turtle that was wedged inside a cheap plastic lawn chair was found dead, washed up on a beach oat Mickler's Landing Beach Park in Sawgrass, Fla. Read More
Dumb Reptile Stories of the Year
San Diego Man Who Wanted Selfie With Rattlesnake Gets Bit with $153,161.25 Hospital Bill.
A man in San Diego, Calif. who supposedly wanted to take a selfie with a rattlesnake got more than he bargained for when the rattlesnake bit him. According to ABC News 10, Todd Fassler picked up the snake from some brush in San Diego, purportedly to photograph himself holding the snake when the snake bit him on the arm. Read More.
Florida Woman Who Straddled Sea Turtle Last Summer Arrested
What were these Americans thinking? What pleasure is derived from riding an endangered sea turtle? Or even touching one? These women apparently did just that in July on Melbourne Beach in Florida and then posted a so-called selfie of themselves on Snapchat. Read More
Advertisement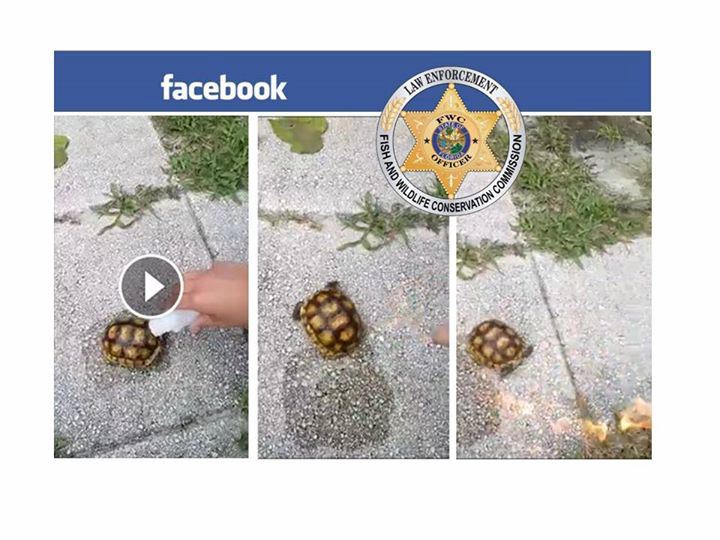 FLORIDA FISH AND WILDLIFE CONSERVATION COMMISSION
Advertisement
A teen girl who was arrested for torturing and killing this hatchling gopher tortoise was ruled incompetent to stand trial.

Teen Girl Who Stomped Baby Gopher Tortoise To Death Again Ruled Incompetent to Stand Trial
Do you remember the story about the two teen girls who tortured and killed a hatchling gopher tortoise (Gopherus polyphemus) in Florida? Well, the case against one of them continues as she has again been ruled incompetent to stand trial. Read More
Another California Man Who Tried to Take Selfie With Rattlesnake Gets Bit
What part of venomous do some people not understand? Another California man was bitten by a rattlesnake after he picked it up and tried to take a selfie with it. According to KCAL9, Alex Gomez, 36, picked up an approximately four-foot rattlesnake near his family ranch in Lake Elsinore when the reptile, you guessed it, bit him on the hand. Read More
Alleged Florida Burglar Killed By Gator While Hiding From Police
This has got to be the weirdest reptile-related news item this week, but then again, it took place in Florida. A man in Palm Bay, Fla. who was suspected of a rash of burglaries in Barefoot Bay was killed by an 11-foot alligator while allegedly hiding from police. Read More
Advertisement