One of four chelonians stolen from the Santa Fe College Teaching Zoo has been recovered.
A woman and her daughter were driving through traffic in Gainesville, FL when they happened upon a turtle that was wandering the road they were driving. The pair pulled over, and upon inspecting the shell of the reptile, realized that it was one several reptiles and other animals stolen from the Santa Fe College Teaching Zoo back in May 2018, according to NewsJax4.
"It's a happy Friday indeed! David Beckham, one of our Florida box turtles who went missing in May of this year, has been returned safely to the Santa Fe College Teaching Zoo!," the zoo wrote on its Facebook page.
"David was found by two individuals in the middle of a road in northwest Gainesville. As they went to move him, they noticed he had holes on the underside of his shell. They contacted zoo staff who determined that he was one of the missing animals."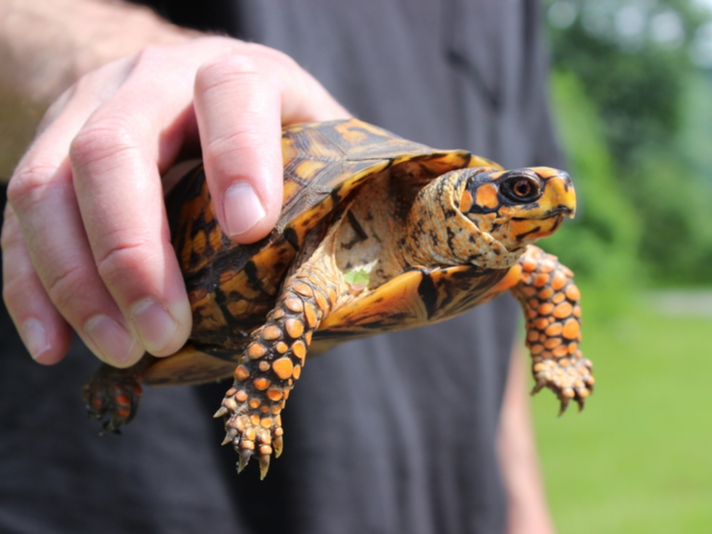 By Lisa Holder/Shutterstock
Most box turtles make great pets. This is an eastern box turtle.

Advertisement
Jay Anderson, spokesman for the zoo told the Miami Herald that of the 11 animals that were stolen, two gopher tortoises and a second box turtle are still at large. Two men were arrested in June and charged with theft, while a third man was charged with dealing in stolen property for trying to purchase one of the stolen animals. One of the men, Austin Bruno, a student at Santa Fe College, refused to provide information about the two gopher tortoises and two box turtles that were taken from the college.
---
---
Anyone with information regarding the whereabouts of the remaining chelonians can call the Santa Fe Police Department at 352-395-5519.
Advertisement