Flash was luckily found in seemingly great shape.
A desert tortoise who wandered away from his home in the east Hillside neighborhood of Duluth, MN 11 days ago has been found, more than nine miles away in the Riverside neighborhood of Duluth.
PrettttttyGreatDay: Yoga, walks, creek swims, #TeamErin #gotv, dinner on the deck. Plus.This.Turtle! Which came to visit. So I fed it. pic.twitter.com/5SxH32rUDa

— Emily Larson (@LarsonForDuluth) August 12, 2018
Flash initially found his way into the yard of Emily Larson, the mayor of Duluth, who thought he was a wild turtle, so she fed him some greens. She even tweeted a photo of the tortoise, not knowing that Flash's keepers, neighbors Barbara and Meredith Saiki were desperately looking for the wayward reptile.
After the sighting by Larson, Flash just disappeared, until he was found down by the St. Louis River, nine miles from his last known location.​ Coralee Thilges was walking near railroad tracks across town when she and her family spotted Flash.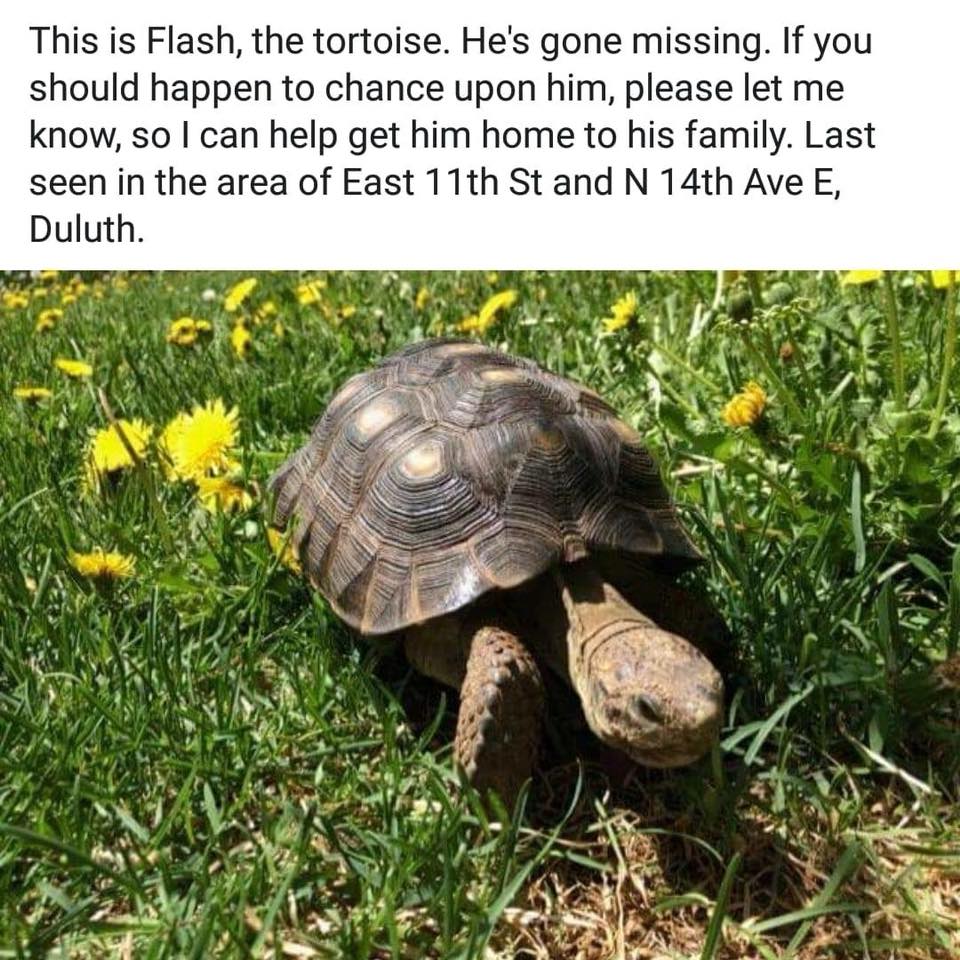 Missing Pets In The Northland/Facebook
Eleven days later, Flash was found 9 miles from home.

"We were crossing the railroad tracks right by our home and he caught our eye by the tracks," Thilges posted on the "Missing Pets In The Northland" Facebook page.
"So we stopped to go check it out. We knew he was someone's because he wasn't afraid of people at all and clearly not a species found in Minnesota," Thilges said.
---
---
Thilges saw a photo of the reptile earlier in the week on the "Missing Pets In The Northland" Facebook page and helped reunite the chelonian with his family.
Saiki told the Duluth News Tribune that Flash would have had to travel about a mile a day to get to where he was found, and speculates that someone may have brought him to the edge of the St. Louis River, thinking he was a turtle.
"He had to be going pretty fast," Saiki said. "You can have an eye on him and turn around, and he's not there anymore," she said, "Because he's gone in a flash."