The Siskiyou Mountains salamander is threatened by federal plans to accelerate logging in its native range.
The Siskiyou Mountains salamander (Plethodon stormi), native to old growth forests in the Klamath-Siskiyou mountain regions of California and Oregon are threatened by federal plans to accelerate logging in southern Oregon and need endangered species protection, according to a petition filed earlier this month by the Center for Biological Diversity.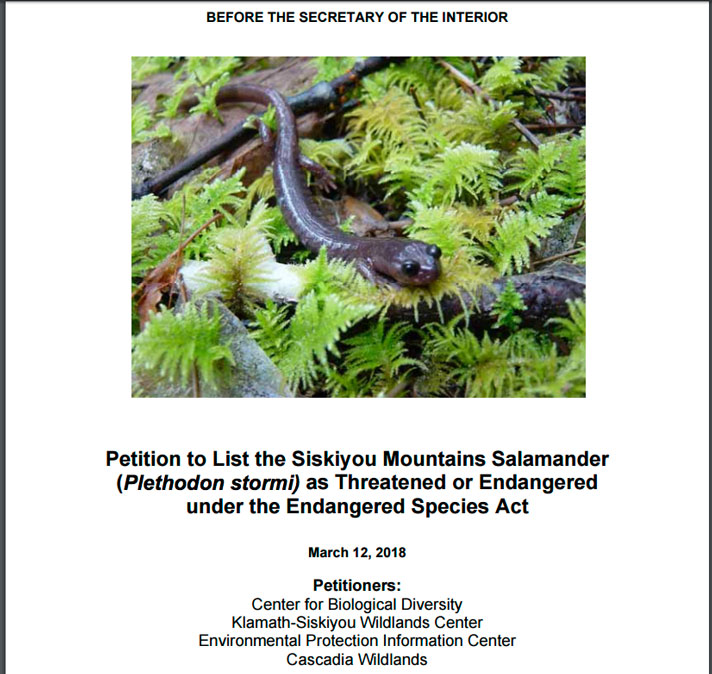 center for biological diversity
Screenshot of the petition seeking Endangered Species Act protections for the Siskiyou Mountains salamander.

"This highly specialized animal can't adapt to logging, so it will be pushed to the brink of extinction without Endangered Species Act protection," Jeff Miller with the Center for Biological Diversity said in a statement released to the media. "The salamander is a unique indicator species of forest health in the Siskiyou Mountains. It deserves immediate protection in the face of accelerated logging."
---
Advertisement
---
The salamander is comprised of two distinct groups, a northern population in the Applegate River drainage in Oregon and a southern population in the Klamath River drainage in California. The known populations are found on U.S. Forest Service and U.S. Bureau of Land Management lands, according to the Center.
The terrestrial amphibian is long-bodied and short-limbed and is brown in coloration with white specks. Its favored habitat is rock talus in old growth forests covered with thick moss.
It has been a long road for the amphibian with regard to protections as conservation groups first petitioned to protect the species in 2004. In 2007, the USFWS and BLM signed a conservation agreement to prevent the listing of the salamander, and in 2008, the U.S. Fish and Wildlife Service denied protection for it based on the conservation agreement.