The pathogen Perkinsea enters the frog through the skin or mouth and then attacks the liver.
Perkinsea, a disease that has been attributed to mass die-offs of frogs around the world has, until now been hard to detect in amphibians until it was too late. Now, thanks to a University of Central Florida undergrad who just earned her degree in biology, scientists will be able to test for the disease in frogs.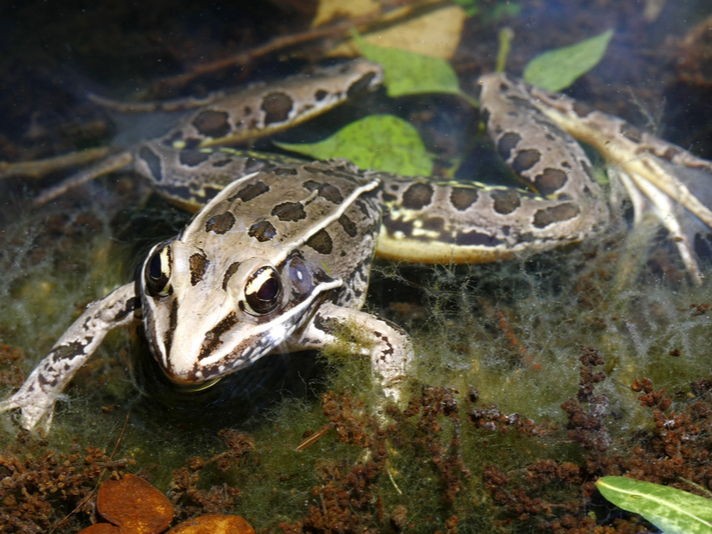 Steve Bower/Shutterstock
Southern leopard frog.

Emily Karwacki was tasked to come up with a method to test for Perkinsea after she earned a research position with University of Central Florida Assistant Professor Anna Savage's lab.
---
New Disease A Threat To North American Frogs
---
Perkinsea enters frogs via the skin or is ingested through the mouth. It attacks the host by embedding itself into the liver and then spreading, eventually killing the frog.
"Not a lot of people have studied Perkinsea because it has only recently been identified," Karwacki told UCF Today. "It's different from other diseases because of the way it attacks the host."
Karwacki created a molecular test, called a qPCR, but since there was insufficient genetic data for the pathogen, she created what scientists call a primer pair and then matched it with the DNA sequence of Perkinsea, according to UCF Today. Using Karwacki's test, researchers determined that 25 percent of the frogs that they sampled tested positive for the disease. The sites where the frogs were tested included the Archbold Biological Station in Venus, Gold Head Branch State Park in Keystone Heights, and the UCF Arboretum in Orlando. They found a high prevalence of the disease in Gold Head Branch, which was the farthest north site tested. Archbold, which is the southern most site tested, had zero infected frogs.
Karwacki's Perkinsea test will enable researchers around the world to test for the pathogen, not only in frogs, but also in soil and water in which frogs live.
"Now with my qPCR, people can test areas where they are trying to release frogs to rebound populations," Karwacki said. "Scientists can test water and soil to see if Perkinsea is there so we don't send frogs out to die."
Karwacki is currently studying frog tissue samples at the Florida Museum of Natural History in Gainesville, for presence of Perkinsea and has so far determined that the disease has been present in the amphibians since at least 1922. The question that remains is why are the frogs dying off in large numbers now.
"There are only three papers on this disease that identify it specifically," Karwacki said. "It has greatly been affecting amphibians in the southeastern United States and should be studied more. It's most likely at least a co-factor in these extinction events we are seeing."
The complete research paper that details the creation of the test, "Novel quantitative PCR assay specific for the emerging Perkinsea amphibian pathogen reveals seasonal infection dynamics," can be read on the Diseases of Aquatic Organisms website.