An elongated tortoise is said to have been stolen from the Ellen Trout Zoo.
An elongated tortoise (Indotestudo elongata) has disappeared from its enclosure and staff at the Ellen Trout Zoo in Texas believe someone reached over the waist- high cement barrier and stole it.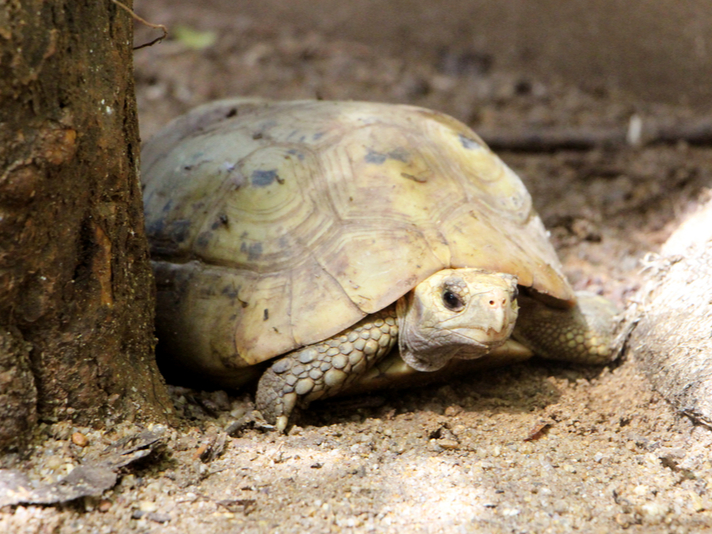 seasoning_17/Shutterstock
An elongated tortoise like this one is said to have been stolen from the Ellen Trout Zoo.

"Immediately, a very thorough search was put into progress," zoo curator Celia Falzone told KTRE.com. "We had basically the whole staff looking around and trying to check, just in case."
---
Elongated Tortoise Information And Care
Advertisement
---
Falzone reported to local police that the tortoise was stolen at around 4:30 p.m.
The tortoise, a male, was hatched at the zoo five years ago as part of its breeding program.
KTRE.com | Lufkin and Nacogdoches, Texas
Advertisement
"The animals you work with almost just become a part of your family," Zoo keeper Adam Dezot told KTRE.com. "I mean, the tortoise was kidnapped. It's just horrible. I can't understand why somebody would do that." Dezot has worked with the reptile extensively over the years.
The zoo is notable for breeding programs and has just started a breeding program for the Louisiana pine snake (Pituophis ruthveni), the fourth zoo in the United States to start a program for the species.
Elongated tortoises are a threatened species native to much of South and Southeast Asia and into central China. Also called the yellow tortoise due to its tannish yellowish shell, the reptile is widely captive bred.
Advertisement
If you have any information, please contact the zoo at (936) 633-0399.