Film details the intricacies of wildlife surrounding a suburban home as the seasons come and go.
The animals that you can find in your backyard can sometimes be quite diverse. In my yard over the past year, I have seen raccoons, possums, a hawk, many bird species, fence lizards and alligator skinks. Sometimes you don't have to travel far to see interesting critters.
Advertisement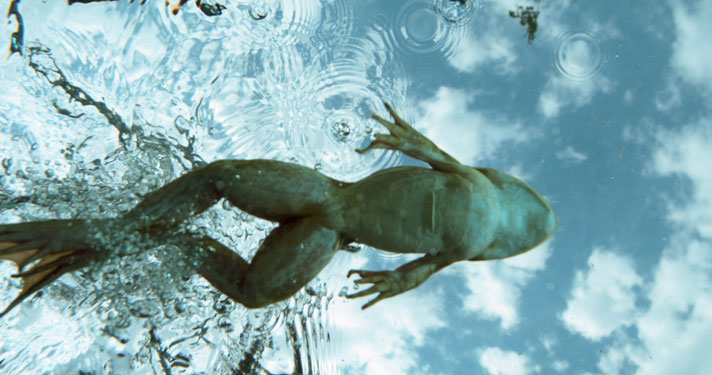 Courtesy Arise Media/SK Films
A frog scene from "Backyard Wilderness."

Which may be the premise for a new 3D film that will screen in March. Called "Backyard Wilderness" the film details the intricacies of wildlife surrounding a suburban home as the seasons come and go. The wildlife are captured via cameras mounted in dens and nests, as well as along forest floors and pond bottoms, showcasing the rich diversity of wildlife in their own environments all just around one home.
"We're thrilled to have made this movie," filmmakers Andy Young and Susan Todd said in a press release announcing the movie. "We live in a world where we are consumed with technology and the notion of instant gratification. Our desire for this film is to incite parents and children alike to slow down and embrace the small marvels of nature. No matter where you live, we all have access to unique and amazing outdoor environments that we can explore together at any age."
Advertisement
The film follows Katie and her family as they put down the modern trappings of electronic devices and learn to embrace that which is unique right outside their home, away from technology.
"'Backyard Wilderness', through breathtaking camerawork shows us an intimate portrait of the world around us," said evolutionary biologist, Vice President for Science Education and Executive Director of HHMI Tangled Bank Studios, Dr. Sean B. Carroll. "The goal of this film, coupled with our educational outreach effort, is to inspire the next generation of scientists and explorers to look closely and observe the natural world around them to better understand how it works."
The film, an Arise Media / Archipelago Films production in collaboration with HHMI Tangled Bank Studios, will be released by SK Films in March 2018 and will be screened in museums, science centers and IMAX theaters in the United States and Canada.
For more information, visit www.BackyardWildernessFilm.com.
Advertisement