The 24 hatchling Texas horned lizards are part of a breeding program launched at the zoo two years ago.
The Center for Conservation and Research at the San Antonio Zoo announced that 24 Texas horned lizards (Phrynosoma cornutum) successfully hatched out of their eggs and will eventually be released into the wild. This is the first of what the center hopes are successful hatchings this season.
Advertisement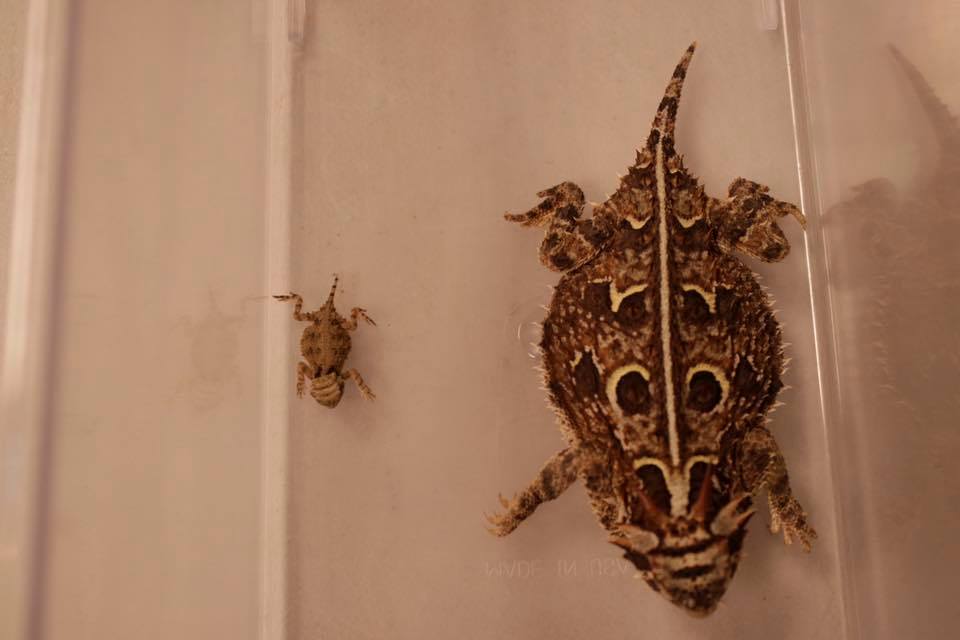 San Antonio Zoo
A hatchling and an adult Texas horned lizard.

"I am proud of the work we are doing to bring back the beloved Texas horned lizard," Tim Morrow, President and CEO of San Antonio Zoo, said in a statement released to the media. "While we have a multitude of global conservation projects, it's especially rewarding to be able to secure a future for wildlife right here in our backyard," Morrow said.
---
Where Did All The Horny Toads Go?
Advertisement
Texas Horned Lizard In Decline
---
The hatchlings are the first of the season that will help enhance the survival of the species in South Texas and are the results of the Texas Horned Lizard Reintroduction Project, launched two years ago. The team at the the Center for Conservation and Research uses Geographic Information System (GIS) data, genetics, and horned lizard ecology and distribution to better understand this species and to ensure that large numbers of the captive born lizards survive in the habitats in which they are released.
The hatchlings born this week will be released later in the summer when they are bigger and have a better chance of survival in the wild. They will also be monitored in the wild via a horned lizard detection dog.
The zoo is also soliciting funding for the conservation efforts of this species. These donations will enable the zoo to acquire the equipment that is needed to ensure the center has a healthy population of Texas horned lizards as the main breeding stock. You can make donations at the zoo's website.
Advertisement