Crocodiles from juveniles to adults were killed in the attack.
Villagers living near a crocodile farm near Sorong, West Papua exacted revenge on innocent crocodiles after a factory worker named Sugito (No last name as many Indonesians don't use a last name) was attacked and killed by a crocodile while he was out looking for food for his cows.
"His family said that Sugito, who worked at a tofu factory, was looking for grass for his cattle when a local resident heard him shouting for help but […] Sugito was found dead," Olga, a local resident, told the Jakarta Post.
As soon as Sugito's funeral ended, a mob from there local village went to the crocodile farm and started slaughtering the reptiles indiscriminately.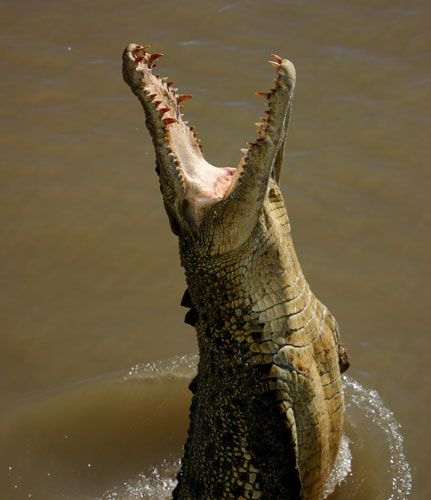 thinkstock
Villagers killed nearly 300 crocodiles in a revenge attack for a man who was killed by a crocodile.

Advertisement
''The residents used knives to slaughter the crocodiles," Olga, a resident of the village, told the Jakarta Post. "The crocodiles were caught and dragged outside and stabbed to death. It was so horrid to see."
Breeding The Critically Endangered Orinoco Crocodile
---
The farm had a permit to operate and the slaughter of the crocodiles violated the law regarding the destruction of others' property.
Advertisement
"The permit is legal and the process [to obtain it] in Jakarta took a long [time]," Albert Siahaan told the Jakarta Post. "There were steps and requirements to meet, and it was under the authority of the local government. The crocodile slaughter is obviously against the law," he said.