A new proposal by the Utah Division of Wildlife Resources would ease the restrictions placed on herp collecting.
The state of Utah is asking its residents for feedback on a proposal that would make it easier for Utahns to collect, possess and breed native, non-venomous reptiles and amphibians. The Utah Division of Wildlife Resources hopes that the proposal, if it becomes law, would help the public keep certain reptile species that are native to the state. Species that would still be fully protected by the state include the Gila monster, Mojave desert tortoise, Arizona toad, Western boreal toad, relict leopard frog and Columbia spotted frog. Native rattlesnakes will still require a Certificate of Registration.
Advertisement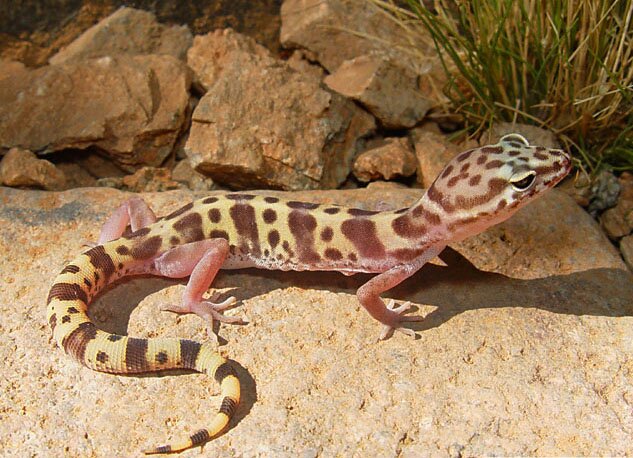 AzWildcard/Wikipedia
Western banded gecko (Coleonyx variegatus).

"This proposal was a result of reptile and amphibian enthusiasts wanting easier access, bag limits and a permit to be able to use this natural resource," DWR native species coordinator Drew Dittmer said in a press release put out by the state. "They wanted to be able to take and engage with these species in a sustainable way and wanted to simplify the process and make it more approachable for the public."
Advertisement
As the law is currently written, those who wish to collect, possess, or breed native herps must obtain and obtain a Certificate of Registration, which the DWR says can be complicated and sometimes expensive. The proposal would simplify this COR and require folks who wish to keep these species to take an online education course that covers the current laws as well as safety and conservation ethics. The course certificate would be valid for three years and a permit would be required.
The proposed bag limit for these herps would be as follows:
Limited: 2 yearly bag limit with 4 total in a person's possession at one time
Standard: 3 yearly bag limit with 9 total in a person's possession at one time
Expanded: 25 yearly limit
Another requirement would be to provide location data to the state with regard to where the species was collected. This would help the DWR study activity as well as distribution patterns of native herps in the state.
"There isn't a good way right now to know how many there are of several of these species," Dittmer said. "The online community science reporting is exciting and is the biggest thing I'm looking forward to with this new proposal. There are people out there who already monitor reptiles and amphibians in their spare time, so requiring them to report it will give us data that will help us better manage these species."
Advertisement
If the proposal is approved and the species are finalized would go into effect January 1, 2020.
Visit the Regional Advisory Council member in your area to provide feedback. You can see a list on the DWR website. You can also attend one of the meetings listed below.
Southeastern Region: May 22 at 6:30 p.m. at the John Wesley Powell Museum at 1765 E. Main St., Green River
Northeastern Region: May 23 at 6:30 p.m. at the DWR office at 318 N. Vernal Ave., Vernal
Wildlife Board meeting: June 6 at 9 a.m. at the Division of Natural Resources building at 1594 W. North Temple, Salt Lake City