Estimates point to less than 10 nesting females of Batagur affinis in Cambodia's river system.
The World Conservation Society, Cambodian Fisheries Administration, Wildlife Reserves Singapore, and villagers near the Sre Ambel River in Cambodia released a southern river terrapin (Batagur affinis) back into the wild last week after it was accidentally captured by a local fisherman in April 2011. The female turtle, one of an estimated 10 nesting females left in the Sre Ambel River weighed about 75 pounds when she was released and was equipped with a satellite tracking device that will monitor her movements throughout the river system.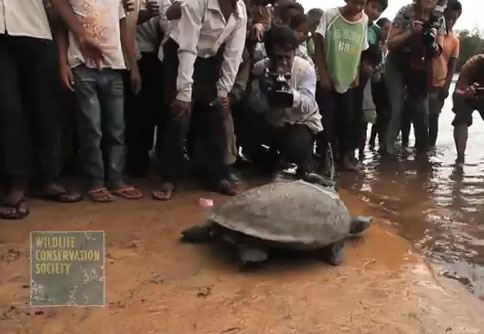 Wildlife Conservation Society
Villagers release a female Batagur affinis back into the Sre Ambel River, Cambodia.
The data collected by the device will help scientists to determine how the turtle navigates commercial fishing grounds and other areas of the river. Scientists will then identify the areas that the turtle frequents and then focus their efforts on those areas in an effort to reduce the number of incidental catches by fisherman as well as reduce targeted hunting of the turtles. This marks the first time that this species has been tracked via satellite.
The turtle was once off limits to the Cambodian population as it was deemed property of the king of Cambodia. It was considered extinct in Cambodia until the year 2000 when a small population of the turtles were found in the Sre Ambel River.
The southern river terrapin is native to Cambodia, Malaysia, and Indonesia. Its Northern river terrapin (Batagur baska) counterpart is native to rivers and waterways of India, Bangladesh, and Myanmar (Burma). According to the IUCN, both populations of these species have been devastated by human consumption of their eggs and meat, habitat alteration and destruction, and net fishing.
Advertisement