Whigham Community Club is last Georgia club that has a rattlesnake roundup.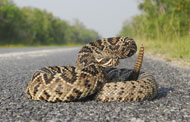 The Evans County Wildlife Club in Georgia will no longer hold rattlesnake roundups.
The Evans County Wildlife Club in Claxton, Georgia has decided to abandon its rattlesnake roundup in favor of a wildlife festival that will celebrate rattlesnakes instead of collecting and butchering them for their meat and skin, according to a press release put out by The Center for Biological Diversity. The group, along with Coastal Plains Institute, Protect All Living Species and One More Generation sent a letter of praise to the wildlife club for its decision to stop killing the snakes at its annual roundups.
The Evans County Wildlife Club will now hold the Claxton Rattlesnake and Wildlife Festival that will feature educational displays of the eastern diamondback rattlesnake and other wildlife native to the region. Held during the second weekend in March, the festival will feature educational programs, entertainment, and other activities for families.
"We're so happy the rattlesnake roundup in Claxton is being switched to a humane event that celebrates these great native animals and recognizes the importance of saving them," Collette Adkins Giese, an attorney at the Center for Biological Diversity said in a prepared statement. "The Whigham Community Club needs to follow suit — it needs to recognize that massacres of endangered animals are just wrong, and clearly the wrong message to send to young people about our relationship to the natural world."
The groups sent a petition letter with more than 5,000 signatures to the Whigham Community club asking that club to stop its roundup.
The groups maintain that these roundups are significantly reducing the population of Eastern diamondback rattlesnakes (Crotalus adamanteus), and that analysis of data from four of these roundups show a steady decline in weight of captured animals as well as the number collected. In addition to hunting pressures, these snakes are declining due to habitat loss and death by motor vehicle on the state's roads, the groups said.
The eastern diamondback rattlesnake a venomous snake with a range throughout the southeastern United States from southeastern North Carolina to Florida and the Florida Keys, southern Mississippi to Eastern Louisiana and Georgia. Its native habitat includes forests, swamps, woodlands, and prairies. It preys primarily on rabbits, rats, and other rodents as well as certain birds. It is the largest rattlesnake species and average 3 1/2 to 5 1/2 feet in length.