Rules proposed in an effort to cap ownership of freshwater turtles.
The Georgia Board of Natural Resources will hold a meeting this week to consider proposed rules, and public comments previously received regarding those rules, for regulating the export, farming and sale of native freshwater turtles.
The Georgia Wildlife Resources Division, part of the state's Department of Natural Resources, was authorized by the Georgia General Assembly to develop regulations that would "conserve native turtles while allowing existing farming and commercial operations to continue," according to the division. The regulations were spurred by international demand, particularly from Southeast Asia, for turtles as food, folk medicine and pets, according to the division.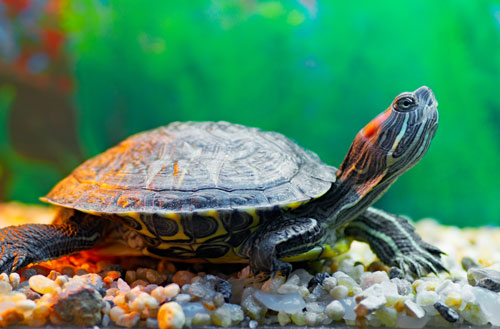 Hemera/Thinkstock
The Georgia Board of Natural Resources will hold a meeting to consider proposed rules for regulating freshwater turtles. A pond slider (Trachemys scripta).
The proposed rules generally cap ownership of freshwater turtles at 10 without a commercial permit, although pet dealers licensed by the state's Department of Agriculture would be exempt. Under the proposal, pet owners and others would need a commercial permit if they owned 10 or more freshwater turtles, even if they were not involved in commercial activities.
The proposal would make a commercial fishing license a requirement for a commercial turtle permit and limits the number of turtles for 10 species permit holders could take in a year. Commercial turtle permit holders will also be required to document and maintain written records for each transaction involving native freshwater turtles and submit an annual report to the Natural Resources Department detailing, among other things, number and sex of turtles in each species possessed; the number captured; mortality by species; number of turtles by species harvested for market; and names and addresses of all suppliers and all purchasers of native freshwater turtles, eggs or turtle products.
Advertisement
The proposal will also make in unlawful for any person to collect native freshwater turtle eggs from the wild and regulates the importation of turtles and eggs from other states. Importers would need a permit and to meet certain record-keeping requirements in order to import turtles or eggs.
The proposal also sets forth specifications for turtle farms. Specifically, outdoor facilities, including breeding, grow-out and holding ponds, must be contained within a perimeter fence at least 24 inches tall (from ground level) and sufficient to prevent turtles from entering or exiting the ponds. Indoor facilities would also require a perimeter fence to prevent the escape of any turtle and employ sanitary methods necessary to ensure the health of the turtles at all times.
The proposal allows for turtle farm inspections by the department at any time. Those inspections could include a complete census of turtle stock under certain conditions, including the sale or transfer of the farm and if an inspection indicates a violation of the regulations.
The new rules do not affect species covered under Georgia's or federal endangered species protection.
The board's meeting is set for Wednesday, Jan. 25, 2012, at 9 a.m. at 2 Martin Luther King Jr. Drive SE, Ste. 1252, in Atlanta. The Pet Industry Joint Advisory Council reports that the public may attend this meeting and make comments.
Advertisement
The division held a public hearing on Jan. 5, 2012, and accepted written comments through Jan. 12.