St. Johns County counted 698 sea turtle nests for the season that ended October 31.
Sea turtle experts in St. Johns County in Florida documented 698 sea turtle nests for the season that begins March 1 and ended October 31 on the Atlantic coast, according to a news report on First Coast News. The nests included 654 loggerhead turtle (Caretta caretta), nests, 33 green sea turtle (Chelonia mydas) nests, and 11 leatherback turtle (Dermochelys coriacea) nests. The count was up from 2011 but didn't beat the record set in 2010, when 885 nests were counted. The county has been counting sea turtle nests since 1989. Experts estimated that 39,849 sea turtles hatched in the county this year. Loggerhead sea turtle nests in the state of Florida were particularly plentiful, with 58,172 nests counted, just below the record high of 59,918 nests that were counted in 1998.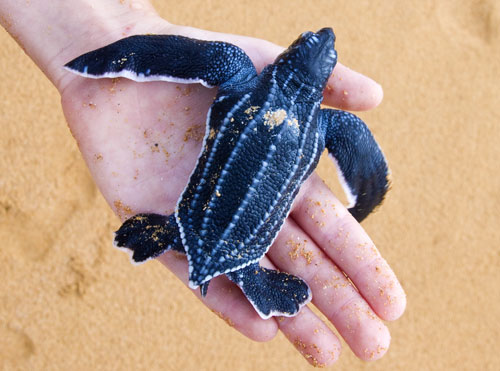 iStockPhoto/Thinkstock
A hatchling leatherback sea turtle (Dermochelys coriacea)
Sea turtle nest counts in the county are up 300 percent from its average over 20 years, said Tara Dodson of the county's Habitat Conservation Division. The county considers the last three years a record for the number of nests counted, Dodson said. Experts speculate that the increase in nest numbers may be due to the effects of the Endangered Species Act that was implemented in 1973. The BP oil spill caused the decrease of turtle nests on the west coast of Florida, and that may also be a cause for the rise in the number of nests on the east coast of Florida, but scientists don't know for sure as there is no conclusive evidence or studies that may support that notion.