After the turtle was freed from its entanglement, the rescuers sunk the boat.
Our armed forces are asked to go above and beyond at home and abroad. They are an integral part of keeping us safe. Sometimes, though it is the little things that they do that might not always get noticed, but are also important. This is one of those things.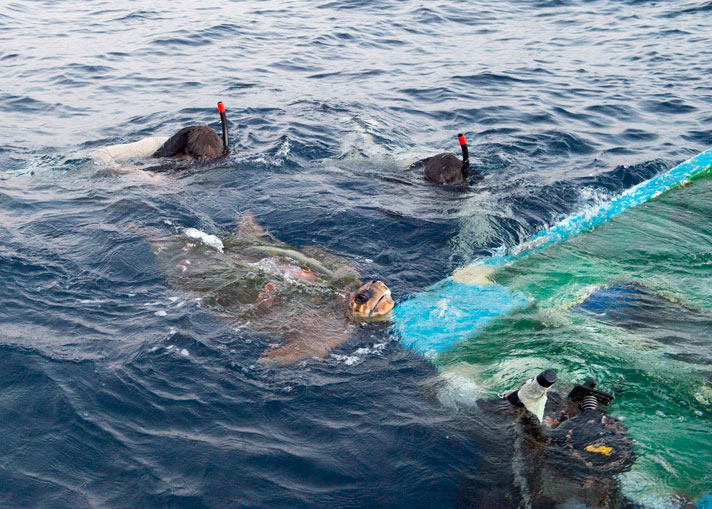 Mass Communication Specialist 2nd Class Tyler Preston/U.S. Navy
After the turtle was freed, the crew sank the vessel.

Sailors with the USS Howard, an Arleigh Burke-class guided-missile destroyer, sailing in the Arabian Gulf, rescued a sea turtle after a Navy air crewman spotted a partially submerged boat while on patrol in a helicopter. The crewman contacted the USS Howard, which sent search and rescue swimmers to investigate.
It was in the boat that they found the sea turtle, entangled in material in the boat. They worked to cut the reptile free from the confines of the partially submerged vessel.
Advertisement
---
Want To Learn More?
Hawaii Soldiers Rescue Green Sea Turtle Trapped In Crab Net
Coastguardsmen Untangle Two Sea Turtles Caught in Fishing Line Off Central America
---
"This was a very unusual rescue," Boatswain's Mate 2nd Class Scott Stearns said in a statement released by USS Howard Public Affairs. "We train for rescuing people in SAR school so a turtle is a very different situation, but it was good practice getting into the water for a real-world situation and we were able to cut the turtle free."
With the reptile free, crew sunk the boat to prevent any potential hazards that a partially submerged boat would have on the waterway.
Advertisement
"Constant vigilance of our surroundings and the ability to adapt and react to any situation is a goal to which we constantly train," said Cmdr. Ryan Billington, commanding officer of Howard. "We were able to simultaneously carry out multiple missions. We launched one of our RHIBs (rigid-hulled inflatable boats) to cut free and rescue a sea turtle and used our crew-served weapons to sink the vessel completely to make it safe for not only wildlife but the safe navigation of other ships as well."
Thank you for your service, and for helping out a sea turtle in need.