A total of 13 ball pythons were abandoned. One has since died.
Why would someone abandon a collection of snakes, let alone ball python morphs? Well, someone apparently left 13 ball python snakes (Python regius) in two Buzz Lightyear pillowcases behind a fire station in Sunderland, England.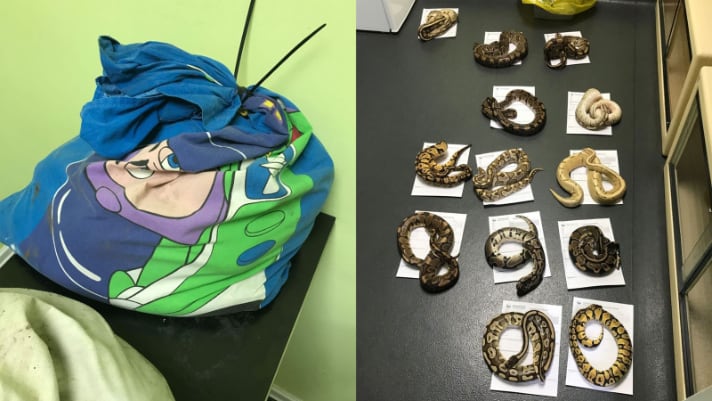 RSPCA
A total of 13 ball pythons were abandoned. One has since died.

The snakes were left behind the city's Farringdon Fire Station, next to a trash bin, and when someone noticed that the pillowcase was moving, and saw the snakes inside, the RSPCA was notified, according to Sky News. The snakes were left in very cold conditions, and upon further inspection, it was found that one of the reptiles had died.
---
---
"Reptiles like snakes are completely dependent on their owners, who need to provide them with the correct environment, including heating and lighting, so abandoning them like this leaves them very vulnerable," RSPCA collection officer David Dawson told Sky News. "It's quite unusual for someone to have this many pythons and to abandon them in what appears to be a child's pillowcase.
The RSPCA is now looking for any information regarding the reptiles.
"We are now appealing for information, if anyone saw anything unusual in Station Road on Thursday evening, or if anyone knows anything about where these snakes may have come from, please contact us on the inspectorate appeal line on 0300 123 8018."
The remaining 12 snakes are being treated at a veterinarian.
Ball pythons are one of the most popular pet snakes due in part to their very docile behavior. At most reptile shows, the ball python continues to be the number 1 snake for sale.