The loggerhead sea turtle was euthanized due to the extent of its injuries.
The death of a loggerhead sea turtle (Caretta caretta) that was found in North Carolina with a mortal head wound has caught the attention of the Center for Biological Diversity, an organization that works to protect the nation's endangered species, so much so that the Center is offering a $5,000 reward for information leading to the arrest and prosecution of those who are responsible for the sea turtle's death.
Advertisement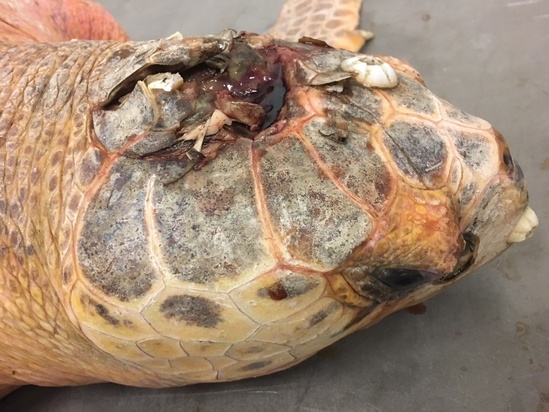 MATT GODFREY, NC WILDLIFE RESOURCES COMMISSION
The loggerhead sea turtle was euthanized due to the extent of its injuries.

"It's sickening to think that someone would harm a defenseless sea turtle," Jaclyn Lopez, Florida director at the Center said in a statement released to the media. "We hope this reward helps prompt anyone with information about who did this to come forward. These imperiled animals need protection, not abuse."
The sea turtle was found with a head injury that experts believe was deliberate. It was euthanized at North Carolina State University Veterinary Hospital after it was determined that nothing could be done to save it.
Advertisement
We reported September 7 that the Wrightsville Beach Sea Turtle Project and the Karen Beasley Sea Turtle Rescue are offering a $1,350 reward for anyone with any actionable information that leads to the arrest of those responsible.
---
---
The total reward now stands at $6,350.
All sea turtles are on the Endangered Species List and it is a crime to even touch them, let alone kill them.
Advertisement
Anyone with information regarding this incident can contact NOAA at the NOAA Enforcement Hotline, 1-800-853-1964. If you wish to be eligible for the reward, you must leave your name and contact information.