Area restaurant and bakery Dakota Thyme Builds a 12-foot, 70 pound Burmese python snake cake
The Reptile Gardens in Rapid City, South Dakota was open for business on Mother's Day, and more than 450 reptile lovers came to the Mother's Day celebration. Park entrants not only enjoyed a day with the reptiles, they were able to partake in a 12-foot, 75 pound cake (Python molurus bivittatus delizioso) modeled after Marilyn, a 12-foot, 150-pound albino Burmese python who is a resident of the Reptile Gardens.
Click image to enlarge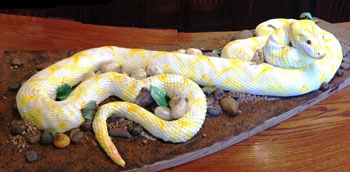 Dakota Thyme snake cake. Everything is edible. Photo courtesy Dakota Thyme.
The cake, which was made by Dakota Thyme restaurant and deli, is comprised of 40 pounds of white velvet cake, 20 pounds of fondant, 10 pounds of Italian buttercream, 10 pounds of lemon curd, and 2 pounds of marzipan. The substrate is comprised of marzipan, fondant, gum paste, Belgium chocolate cake crumbs and pearl sugar. Marilyn's "hatchlings" are made of marzipan and their substrate is comprised of brownies, chocolate twigs, and marzipan leaves. Everything is edible.
Owner Julie Smoragiewicz told ReptileChannel that to achieve the snake-like body, the bakers used Bundt cake. For the substrate, they used half sheet pans and decorated it with various edibles, including the aforementioned eggs and hatchlings. Smoragiewicz got the idea from a snake cake image that went viral on the Internet last year. That cake was baked in England. The Mother's Day event with the snake cake went so well that it may return next year with a bit more fan participation.
"Yesterday we talked with Johnny at Reptile Gardens about making this an annual event where we engage both sets of our fans a month or two before Mother's Day to generate suggestions on which reptile (or other Reptile Garden animals) and then bake a different animal replica each year," Smoragiewicz said. "Reptile Gardens provides free admission to mothers who donated canned food for the local food bank, we might do the same for the cake which could increase the amount of food donated to the local food back each year. It was great event and so fun to see the reactions from young and old alike as they examined the cake."
---
Want to Learn More?
Burmese Python Snake Cake Goes Viral on Internet
Advertisement
---
For more information on the cake, you can contact Dakota Thyme at (605) 716-DELI (3354) or visit its website at www.DakotaThyme.com