Commonwealth is hoping that hunters will capture iguanas and export the meat to other countries.
I wish I was in Tijuana, eating barbecued iguana–Wall of Voodoo, 1983
Could barbequed iguana soon be a widely accepted staple food item in your neck of the woods? The Puerto Rican government is hoping so because Puerto Rico has a green iguana (Iguana iguana)problem. The invasive lizard, with some estimating the population at 4 million on the tiny island, has been blamed for chewing up and destroying the island's native plants and food crops, and digging holes under roads and dikes, according to a report in the Wall Street Journal. So the government has decided to do something about what residents call the "green plague."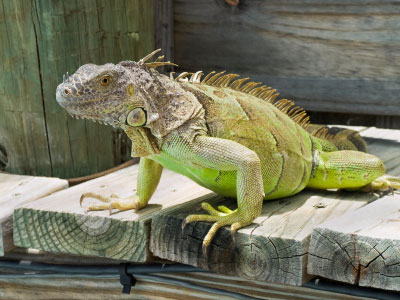 Photo credit: Shutterstock
Green iguana. Puerto Rico is hoping that its green iguana problem will turn into a profitable food export business.
Advertisement
The commonwealth's Department of Natural and Environmental Resources has come up with a solution– and that is for hunters to capture the iguanas and offer them for sale in other countries that enjoy eating the large terrestrial lizard. Daniel Galán Kercadó, secretary of the Department of Natural and Environmental Resources said that Puerto Rico has a serious problem with these reptiles and exporting iguana meat is a solution. Hunting the iguana and offering them up for sale would help to alleviate the iguana problem in Puerto Rico and create jobs in the process, he told the paper.
The government has stepped in, encouraging iguana hunting entrepreneurs to get into the iguana exporting business, offering up such incentives as subsidized rent. This is not the first time that a solution to an invasive species problem is to hunt that species. In Florida and up the Atlantic coast, the lionfish has established itself on warm water reefs, decimating local fish populations. The state of Florida has held red lionfish derbies for the past several years in hopes of eradicating it off the state's reefs.
Will hunting iguanas help to get rid of them in Puerto Rico? Tell us what you think in the comments below.
Advertisement