Bonus content from the September 2011 REPTILES magazine article "Prepare for the Worst."
If a natural disaster were to strike your home or where you keep your reptile collection, would you be prepared? Have these items on hand at all times so you won't be caught off guard.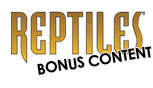 Hand warmers or heat packs for shipping. If you lose power during cold months, these can be invaluable for keeping sensitive herps alive.
Cool packs. If you live somewhere hot where you depend on air-conditioning, cool packs might buy you some time before power is restored.
Insulated boxes. You know all those Styrofoam insulated boxes used for delivering frozen rodents or other perishable goods? Save the boxes and liners; they can make great temporary housing.
Bottled water. Your herps need it, just like you do.
Sanitizing gel for your hands.
Cage cleaner. You don't want to let waste sit for too long, as it can lead to health problems.
Disposable water cups.
A generator. Probably the most important piece of disaster equipment. It can run heat tape, power a chest freezer or keep lights on. Also, don't forget to have a few spare gas cans for storing fuel.
A list of phone numbers of friends who may be able to shelter your pets.
For herps that are omnivorous, a supply of dried food that can be rehydrated. For some insectivores, a spare container of mealworms or other easily transportable meal is a good idea.
Extension cords. If running a generator not hooked up to your main electrical box, you will have to run extension cords to heating and lighting devices. Be sure not to exceed the recommended watts on the generator.
A weather radio. With no TV or internet connection, this might be your best bet to know about more hazardous weather headed your way.
Rob Haneisen is a newspaper editor and an award-winning journalist in Massachusetts. He has kept and bred reptiles for more than 15 years. He also writes a blog for the MetroWest Daily News about weather and gardening.
Advertisement