Rogue was found in the woods near woman's home.
An Alabama woman whose rescued Burmese python went missing two wees ago has been found. Brittany Nichols initially thought her python was killed and mutilated, and she buried what she thought were the remains of her snake in her yard. It turns out, according to the Sand Mountain Reporter, that the remains that she buried were not that of her snake.
---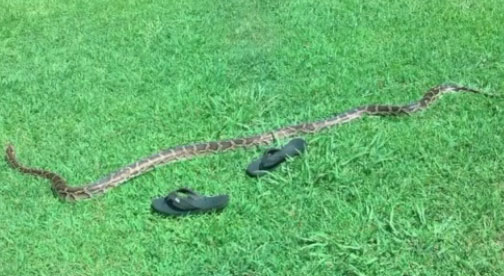 Brittany Nichols
Brittany Nichols rescued her python, Rogue, two years ago.
---
Nichols initially reported the snake missing to Albertville police, who later informed her that a snake was found at a mini-mart in Boaz, Alabama. Her high hopes of finding her snake alive were initially crushed when she went to the gas station and found a snake in pieces in a garbage can. The bulk of the snake's body was missing and the bones of its head were removed and disassembled.
Her snake was reportedly found alive in an apartment complex near her home by a girl walking her dogs. After the discovery, the city had her register her snake, as the city has an ordinance on snakes longer than 6 feet. Nichols' snake is 11 feet in length. Nichols said that she is going to buy locks for her enclosures and has moved the enclosures into her house.