Softshell turtles are dying in Florida's St. Johns River system.
Florida investigators are looking into the deaths of about 100 freshwater turtles that were found dead along the St. Johns River in Orange, Seminole, and Putnam counties. The Florida Fish and Wildlife Conservation Commission has conducted analysis of some of the dead reptiles and have not yet pinpointed the cause of death. There haven't been any toxins detected in the samples, the commission said in a FWC news release.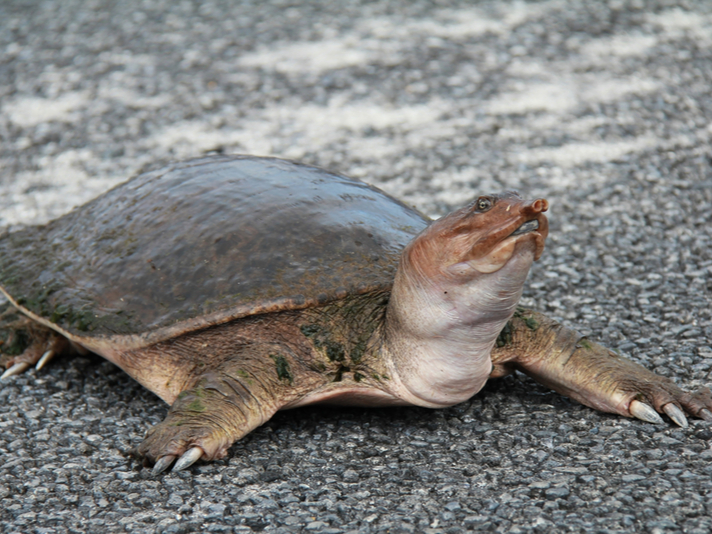 Brian Lasenby/Shutterstock
Softshell turtles are dying in Florida's St. Johns River system.

The species most affected by the die off are softshell turtles, though several river cooters have also been found dead.
"These types of turtles are pretty resilient," St. Johns Riverkeeper Lisa Rinaman told the Ocala Star Banner. "So it was quite alarming to us."
Advertisement
---
How To Care For Soft-shelled Turtles
---
"It definitely is a red flag," Rinaman said. "We want to figure out what's going on for the sake of the turtles but also make sure there is not a larger human health issue to be concerned about."
On May 16, members of the St. Johns Riverkeeper's Headwater's Advisory Council found a large number of dead and dying turtles close to the Tosohatchee Wildlife Management Area as well as in three lakes in Putnam/Flagler, Seminole and Brevard County, Rinaman said. Turtles found alive were apparently having a hard time breathing and were lethargic. There were no obvious injuries or signs of lesions on the dead reptiles, though Rinaman noted that the location of some of the dead turtles are near sites were sewage sludge is permitted to be used as fertilizer.
"They would crawl out and just kind of gave up and couldn't go anywhere," Rinaman said. "Our concern was this high level of sewage sludge that's being applied on adjacent lands there in the headwaters. In particular, some of the areas where they are seeing a high number of turtle deaths," she said.
Advertisement
The FWC is asking the public for any information about any dead or dying turtles that they come across as FWC scientists are trying to determine how much of the state may be affected by a turtle die off.
The commission is asking the public to help by providing information regarding any dead and dying freshwater turtles they find. Scientists are trying to determine whether the deaths are occurring in any other areas of the Florida as they work to figure out the cause.
Florida softshells are the largest softshell turtle species in North America. Females can reach 24 inches while males grow to around 12 inches. They are found throughout Florida and can also be found in Georgia and southern South Carolina.