The armadillo girdled lizard is known to roll into a ball as a defensive mechanism against predators.
A Japanese man in South Africa was sentenced to 13 years in prison or a $80,200 fine for trafficking 48 armadillo girdled lizards (Ouroborus cataphractus), a restricted species in South Africa.
Advertisement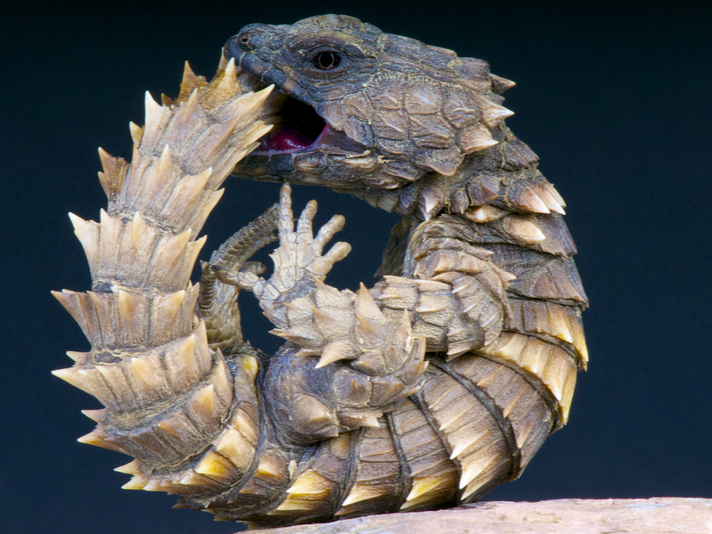 reptiles4all/Shutterstock
The armadillo girdled lizard is known to roll into a ball asa defensive mechanism against predators.

According to The Asahi Shimbun, Koji Ikoma, who apprehended in November 2017 after a high speed chase with South African police, admitted to poaching and possessing the reptiles and was going to bring them to Japan where they are highly sought after in the reptile hobby. Ikoma apparently tossed a cooler bag containing the reptiles out the window of a car during the pursuit.
According to Iol.com, South African police were assisted by CapeNature Conservation Services, the Biodiversity Crime Unit, the Nuwerus, police with the Lutzville and Malmesbury of the Stock Theft and Endangered Species Unit and the National Prosecuting Authority's organized crime unit.
Advertisement
Armadillo girdled lizards, also known as the golden armadillo lizard, or the armadillo spiny-tailed lizard, live in desert areas of the west coast of South Africa. They can grow to about 4.1 inches in length (10.5 cm) and feeds on small invertebrates like termites, spiders and other insects. A livebearer, the Armadillo girdled lizard is so named due to its capability to take its tail in its mouth and roll itself into a ball to void predation. The spines on its tail and thick scales also help to inhibit predators from eating it.
The lizard gives birth to just one or two babies a year or every other year. The lizard is a Schedule II species of the Convention on the International Trade in Endangered Species of Wild Fauna and Flora (CITES). The trade of this species in South Africa is restricted.