The laying and fertilizing of Japanese giant salamander eggs in Hawaii is a first outside of Japan.
The Honolulu Zoo, home to three Japanese giant salamanders (Andrias japonicus), announced that its breeding efforts have paid off as a female has laid eggs in her breeding den and the male was observed fertilizing the eggs. This marks the first time that these amphibians have bred outside of Japan.
"It is an honor to have the Japanese giant salamanders at the Honolulu Zoo and to be part of the conservation program," Linda Santos, director of the Honolulu Zoo said in a statement released by the zoo. "We are very pleased to have gotten this far in the breeding program. Even if these eggs are not successful we are proud of our staff's accomplishments in getting the animals to feel comfortable in their habitat to breed, and at a very early age for these animals. We are patiently waiting as the excitement builds to hopefully develop larvae and hatch out new salamanders."
According to the zoo, keepers observed the female lay her eggs in a breeding den in the salamander habitat September 29. The male was then observed fertilizing the eggs. The zoo has three Japanese giant salamanders, two females (Panda, 13, and Maru, 13) and a male named Peace, 11, who were gifted to the zoo by the Hiroshima City Asa Zoological Park. Maru is set up in her own habitat. They made their debut to the public at the zoo's new Ectotherm Complex in February.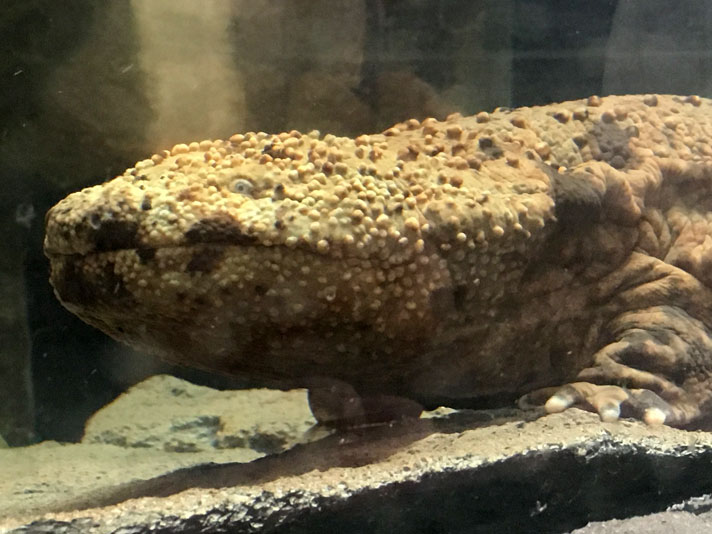 Honolulu Zoo
The laying and fertilizing of Japanese giant salamander eggs in Hawaii is a first outside of Japan.

Advertisement
The zoo hopes that the eggs hatch around early December. If they do, this will mark the first time that Japanese giant salamander larvae successfully hatched outside of Japan.
"This is a very exciting development at the zoo and I want to thank the hard working team of keepers who take care of our Japanese giant salamanders, who obviously enjoy their new habitat," Mayor Kirk Caldwell said in the statement released by the zoo. "The zoo's knowledge and love for these reptiles are key ingredients in fostering the kind of environment where something like this is possible. Hopefully, we'll be able to welcome our new Japanese giant salamanders into the world very soon!"
---
Honolulu Zoo Now Home To Three Japanese Giant Salamanders
---
Japanese giant salamanders are known as Ōsanshōuo in Japanese, which translates to giant pepper fish, even though they are amphibians. The salamanders can grow up to five feet in length and are the second largest salamander in the world. The Chinese giant salamander (A. davidianus) is the largest in the world.
Japanese giant salamanders can be found on Kyushu, Honshu, and Shikoku islands.
The amphibian is listed as near threatened by the IUCN due to pollution and habitat loss. They were once a food source for people which also detrimentally affected their populations. They now are protected by law.
Advertisement