Hubbard, who played in the Majors in the 1980s took his all star photo with a boa constrictor on his shoulders
If you don't know who Glenn Hubbard is, you might want to find out because he is about to become a bobble head, complete with a snake draped on his shoulders. You see, Hubbard was a Major Leaguer, having spent 12 years playing MLB, and in 1983, coming off his best season in the majors, decided to take his official All-Star selection photo with an 8-foot boa constrictor around his neck. Now, some say that the picture of Hubbard with the boa constrictor may make the Fleer-released baseball card the most unusual card on the market.
Advertisement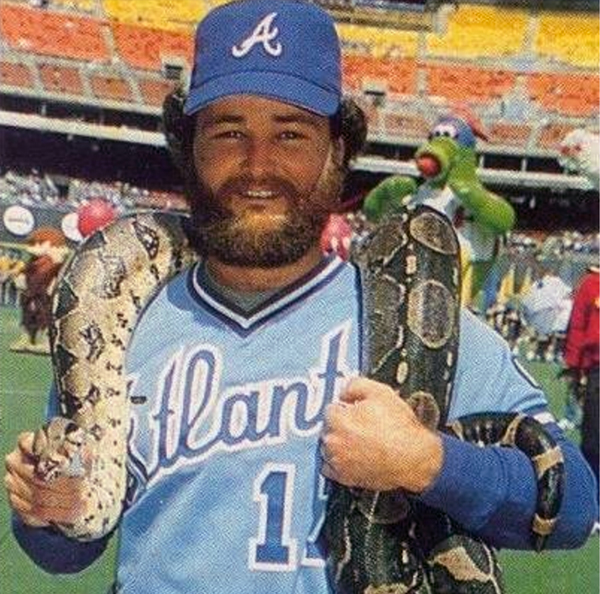 fleer
Former major leaguer Glenn Hubbard may have been ahead of his time when he posed with this 8-foot boa constrictor back in 1983.

The Kansas City Royals Class A affiliate will release a bobble head of Hubbard complete with the snake in honor of his All Star baseball card June 24. Writer Mark Townsend with Yahoo Sports says in his column detailing the Hubbard's baseball card says that the Glenn Hubbard Bobblehead, complete with boa constrictor, may become one of the most sought after bobbleheads to be introduced.
So, if you collect baseball cards, take a hard look and see if you have the elusive Glenn Hubbard 1984 Fleer Glenn Hubbard card with an assist from an 8-foot boa constrictor. If not, you can find out how to obtain the Glenn Hubbard/Boa constrictor Bobblehead. Visit the the Kansas City Royals Class A affiliate website for more information.
Advertisement