Bamboo was captured after a homeowner spotted green iguanas running all over the street.
An Asian water monitor (Varanus salvator) who escaped his enclosure in late August in the town of Davie, FL has been captured and will soon be returned to his owner.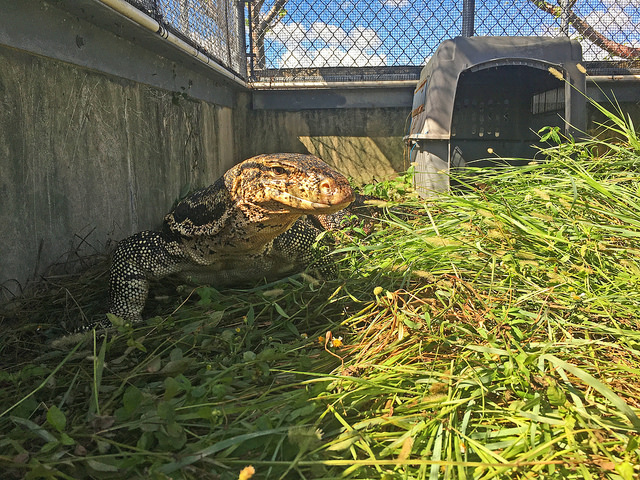 FWC Photo by Eric Suarez
Bamboo was captured after three months roaming the streets of Davie, FL.

The large lizard was spotted by a homeowner November 5 after he witnessed a bunch of green iguanas (Iguana iguana) running around the street. The homeowner called the Florida Fish and Wildlife Conservation Commission's Exotic Species hotline, and the FWC sent biologists out to the property the next day and were able to capture the reptile.
---
Advertisement
Actress Sharon Stone Encounters Monitor Lizard On Her Beverly Hills Street
---
The owner of the lizard came forward and provided tips on the reptile's behavior, which ultimately enabled the biologists to capture him.
"In this instance, the pet owner came forward and provided us with tips about the animal's behavior that ultimately helped our biologists capture it," said Sarah Funck, FWC's Nonnative Fish and Wildlife Program coordinator. "If you have information about a priority species, such as a monitor lizard or a python that is loose in the wild, it is critical you immediately relay this information to the FWC so we are able to respond as quickly as possible."
The FWC will return the lizard to the owner after the owner resolves the criminal citation received for the escape. The owner will also be subject to an inspection to ensure that the monitor lizard has the appropriate enclosure in place.
Advertisement
Water monitors are native to Eastern India and Sri Lanka, eastward through southeast Asia, Malaysia, Indonesia and the Philippines. They can grow to more than 8 feet in length, though most average around 5 feet in length. They are one of the few large lizards that folks keep as pets. Some who keep them call them puppy dog tame.