Captive breeding efforts enabled 500 California red-legged frogs to be released back into Yosemite Valley.
The California red-legged frog (Rana draytonii), made famous in Mark Twain's Book "The Celebrated Jumping Frog of Calaveras County" has made a comeback in California's Yosemite National Park, thanks to captive breeding efforts of the federally threatened species.
Advertisement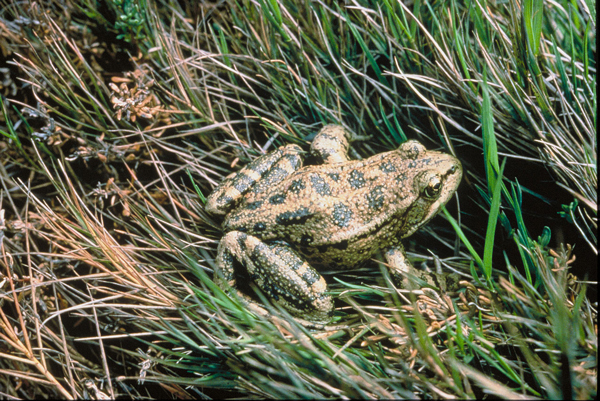 MARK JENNINGS/USFWS
Captive breeding efforts enabled 500 California red-legged frogs to be released back into Yosemite Valley, where they haven't been seen in the wild for more than 50 years.

Since 2017, 500 frogs were released into Yosemite Valley, including an additional 200 adult frogs released just last week. It has benefited from captive breeding efforts as well as $130,000 fin donations from the Yosemite Conservancy, which protects aquatic species in the park.
"They are a sentinel, both of land, air and water quality," Rob Grasso, a park aquatic ecologist told the Fresno Bee. "So if water quality is poor, frogs tend not to do well. And since they have a bilateral – a water and land life stage – you can actually look for indicators on land that might not be healthy, and that can be a lot of indicators related to habitat. So I used to often jokingly say to people, 'It's the frogs now, but you could be next.'"
Advertisement
---
Biologists To Reintroduce California Red-legged Frog To SoCal Mountains
---
The frog, known for its red legs, is the official state amphibian of California. The frog experienced severe declines in the Yosemite valley due in part to the chytrid fungus that has devastated amphibians worldwide, damage to their wetland habitats, hunting the frogs for food, as well as the introduction of non-native bullfrogs in their habitats. About 1,000 bullfrogs have since been eradicated from Yosemite Valley over a 10 year period. They were declared gone from the valley in 2014.
All the frogs released into Yosemite Valley are microchipped, so researchers can scan them for data if they are later found in the wild. The conservancy expects an additional 275 frogs to be released in June, with 75 of those frogs outfitted with radio transmitters, allowing researchers to monitor their movements. Those transmitters will then be removed in December. All the frogs released into the valley were reared by the The San Francisco Zoological Society and Yosemite National Park Conservation and Recovery Facility.
Listed as threatened in 1996, Rana draytonii is the largest native frog in the Western United States. It grows from 1.5 to 5 inches in length and sports an olive or brown back and reddish legs and belly.
Advertisement