It is estimated that less than 1,000 Baw Baw frogs remain in the wild.
The Baw Baw frog (Philoria frosti), an amphibian endemic to Australia's Mount Baw Baw plateau in Victoria that winters under the snow, has been successfully bred for the first time at the Melbourne Zoo in Australia. The frog, a rarity in the amphibian world in that it thrives in colder climates, is estimated to have a wild population of less than 1,000 individuals.
📢 This is HUGE. This is exciting. This is the kind of thing that all Victorians should be celebrating! We are very proud to announce that after seven years of trying, our team of legends at Melbourne Zoo has bred Baw Baw Frogs in captivity – a world first! Sadly all estimates point to the extinction of this extremely elusive frog in the next five to 10 years so a breakthrough like this could be what saves this species from extinction. Read more ➡️ https://bit.ly/2RiT7Je Special thanks to the Baw Baw Frog Recovery Program partners: the Victorian Government, Baw Baw Frog Recovery Team Baw Baw National Park, Baw Baw Shire Council, Deakin University, Department of Environment, Land, Water and Planning, Mt Baw Baw Apline Resort and the University of Wollongong.

Posted by Zoos Victoria on Sunday, October 28, 2018
This is a milestone for Damian Goodall, amphibian specialist with the Baw Baw frog recovery program at the zoo who first had success with collected eggs in 2013 that produced 96 froglets. Getting the frogs to breed was a challenge until recently.
---
Snow-Dwelling Frog Faces Extinction As Researchers Try To Save Species
---
Goodall at the zoo experimented with foods, as they had no idea what the amphibian fed on, and settled on springtails, a termite-like insect that were rich in calcium, and slaters, also known as pill bugs and rolly polly's.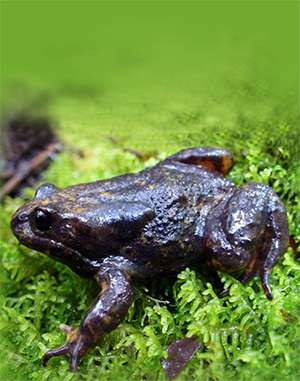 Damian Goodall/Melbourne Zoo
Advertisement
It is estimated that less than 1,000 Baw Baw frogs remain in the wild.

Figuring out what the frogs liked to eat helped to further the breeding effort, and this year the zoo was successful.
''We have been able to create bio-secure facilities, with tested life support systems, including water filtration that can protect the frogs against pathogens and fungi,'' Goodall told the Sydney Morning Herald.
''We can now have a foundation to create these micro-climates, which can be adapted for different species and environment for future work, (such as) an upcoming recovery program for some of Papua New Guinea's frog species.''
Advertisement