Wildlife Discovery Center in Lake Forest, IL acquires Cage's five year old Varanus salvator.
Actor Nicolas Cage has given up his Asian water monitor (Varanus salvator) to the Wildlife Discovery Center in Lake Forest, IL, apparently because he will be traveling while working on a new movie and won't have time to take care of all the reptiles in his collection. According to a report in Gazebo News, the water monitor came to the center by way of a mutual friend of the center's curator, Rob Carmichael, and Cage, who told Carmichael of the actor's desire to give his water monitor, named Michael, up for adoption. The lizard is five years old and around five feet in length, including the tail.
When the lizard arrived at the zoo, the staff gave him a shower and let him roam the main exhibit hall before he was placed into his enclosure.
Advertisement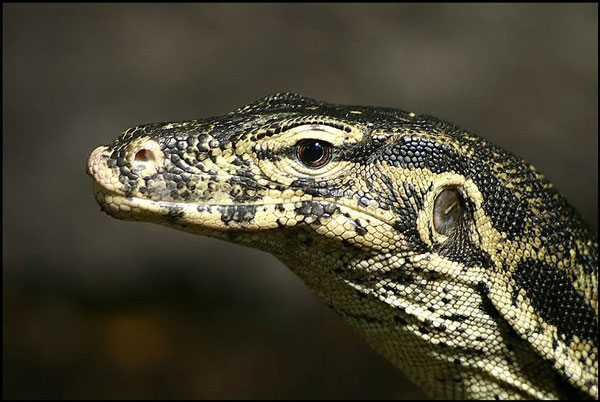 Asian water monitor
"The following day he dined on quail, mice and rats; yummy to a big predatory lizard, Carmichael told Gazebo News."He has a few 'dings' and needs to be fattened up a bit but, overall, he's in pretty good shape. The Asian water monitor we got was obviously dearly loved as it is very friendly and easy going and this animal is now on exhibit in our main exhibit hall. He'll also be used in our educational programs and birthday parties as well."
Cage is no stranger to reptiles, having been forced to give up his two cobras in 2008 after neighbors complained. In 2009, Cage donated his two-headed gopher snake to the Audubon Zoo in New Orleans. He was also rumored to have studied the movements of the cobras for his role in the Ghost Rider movies.
---
Want to Learn More?
Advertisement
ReptileChannel Quick-Care video-Asian Water Monitor
Asian Water Monitors in Downtown Bangkok
Asian Water Monitor Species Profile
---
Check out this video of the two headed gopher snake Nicolas Cage donated to the Audubon Zoo in New Orleans. Click the arrow and ignore the error message.
Advertisement