The release is part of a 10 year effort to reintroduce the species into the wild.
The state of Florida has benefited from a captive breeding program of the eastern indigo snake (Drymarchon couperi) as 15 of the threatened species were released yesterday, marking the third year in a row that snakes raised specifically to help the species recover in the wild have been released. These snakes were released in the Nature Conservancy's Apalachicola Bluffs and Ravines Preserve (ABRP) in Bristol, according to a press release put out by The Nature Conservancy.
Advertisement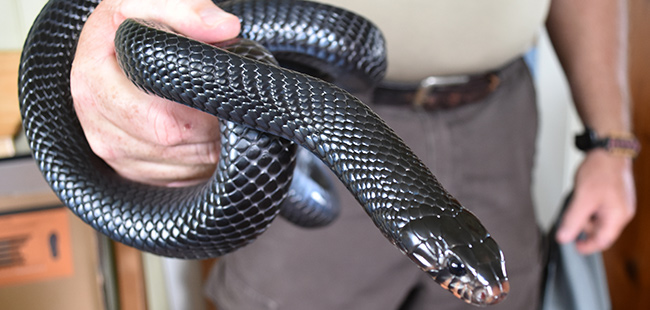 Rachel Hancock DavisTNC
The eastern indigo snake is the largest native snake in the United States.

The species was last seen in the ABRP in 1982. In 2017 and 2018, several dozen captive bred snakes were released into the preserve.
---
Breeding the Eastern Indigo Snake
Advertisement
---
"We continue our work throughout the state and at our preserves to create healthy habitats and properly functioning natural systems that support iconic and important wildlife and plants," said Temperince Morgan, Executive Director, The Nature Conservancy in Florida. "With the third annual snake release and the teamwork of our dedicated partners, we're moving the indigos in the direction of species recovery."
The 6,295-acre preserve is the only site in the state that is designated for the reintroduction of this iconic species, which is the largest native snake species in the country. The 15 snakes that were released yesterday were bred and hatched at the Central Florida Zoo's Orianne Center for Indigo Conservation (OCIC). They were hatched in 2017 and spent one year at OCIC and another at the Welaka National Fish Hatchery prior to their release into the preserve.
The Central Florida Zoo & Botanical Gardens and OCIC are proud to contribute to the conservation efforts of this spectacular species," Michelle Hoffman, Director, Orianne Center for Indigo Conservation said in the statement. "By focusing on the captive propagation and reintroduction of eastern indigo snakes, we are able to progress towards our goal of reestablishing this species in the Florida Panhandle."
The eastern indigo snake is the longest native snake in the United States, sometimes reaching more than 8 feet in length. The snake is a federally threatened species and certain restrictions are in place with regard to possessing them. A member of the Colubridae family, indigo snakes feed on a variety of animals, including small mammals, amphibians, birds, lizards, baby turtles, and other snakes, including every species of venomous snake found in Florida.
Advertisement