The second attempt to breed Yangtze giant soft-shell turtles ends in failure.
Click image to enlarge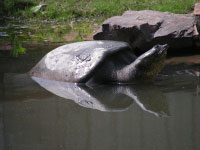 China Girl, the only known female Yangtze giant soft-shell turtle (Rafetus swinhoei) left in the world, sits in her Suzhou Zoo pond. Photo courtesy Gerald Kuchling.
For the second year in a row, one of the world's most endangered turtle species failed to reproduce, and turtle conservationists again look ahead to the future.
China Girl, the world's only known female Yangtze giant soft-shell turtle (Rafetus swinhoei), laid 188 eggs in three clutches this past summer in a specially adapted enclosure at Suzhou Zoo in Jiangsu province, but all have been determined to be unviable. A few eggs initially had appeared to be fertile, but the embryos died early during development.
Advertisement
Rick Hudson, president of the Turtle Survival Alliance, one of the groups working to save the species, discussed the news in the July 17 TSA newsletter. "This sad news is terribly disappointing for all of those that have worked so hard to save this species through captive breeding, and to the caring donors that have given so generously to ensure success," he wrote.
"As was the case last year, we believe the problems stem back to poor nutrition," Hudson continued. "Despite frequent urgings and instructions from the TSA team to feed a balanced and calcium-rich diet, the changes were made too late in the year to adequately impact egg and sperm production in the pair. Supplements were provided, but not enough whole fish, chicken and quail were fed to make a difference."
Hudson concluded his update on the Yangtze giant soft-shell turtle project with an appeal to look ahead. "Remember, as frustrating as this process is, we really don't have any choice but to push on," he wrote.
Discussions about the species' future nutrition needs are already underway. Gerald Kuchling, a TSA turtle expert overseeing Rafetus swinhoei events at Suzhou Zoo, said both the Suzhou Zoo (which owns the estimated-101-year-old male, one of world's three known males) and the Changsha Zoo (which owns the estimated-81-year-old China Girl) have agreed in principle to follow TSA recommendations in 2009 and 2010. "The diet was much improved since June 2009," he said. "There are, however, still problems with some details and interpretations."
Husbandry improvements are also ongoing. Concerned about trash being thrown into the Rafetus swinhoei pools, the TSA funded the construction of a glass barrier around the roughly 3,930-square-foot enclosure, and it was completed in September.
Advertisement
Nearby, a larger enclosure for the pair also nears completion, and Kuchling said the plan is to move the breeding pair into this 10,048-square-foot enclosure, which includes a larger beach area and a central island, in 2010. "From 2010 onwards the larger pond will be used as a breeding pond," he said. "This, however, means that, in the very near future, we will need an additional glass barrier for the large pond at a cost of U.S. $20,500 for which we will have to find donations in the near future."
Kuchling said the next breeding attempt with China Girl and her mate will begin in April 2010.