Reptilekeeping in a business suit.
Tom White entered the reptile industry when a former client presented him with an irresistible opportunity. Much like his interest in motorcycles, from that point on, it was full speed ahead.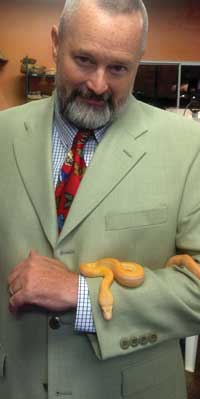 Although he is often seen in a business suit, White's passion is making sure that reptiles like this python have the habitats they need to thrive in captivity
"Getting into herps, for me, was quite a different evolution than most. I was working at a graphic design studio in San Diego, at which one noteworthy reptile-products manufacturer had all their packaging and advertising materials designed. It was through this connection that, a couple of years later, after I'd left San Diego for another media industry position, the owners of the reptile-products company sought me out to join their team, and subsequently relocated me back to San Diego," White says.
From there, he was eventually scouted by CCPet and stepped into his role as president of the company. Although he never attended a herp-focused university or received formal training, his enthusiasm and knowledge grew from first-hand experience and quickly formed into a passion. "I learned through natural absorption and self-study in the course of my involvement in the industry's business aspect."
What White found most compelling was the ability to design and engineer attractive, multi-function vivarium and aquarium elements that would offer consumers the ability to keep their herps in an ideal setting. "It is when you pour yourself into something that ultimately proves to be very well-received by the consumers, that validation for your experience, fore-thought and efforts really takes hold. It's very gratifying."
Advertisement
White's focus remains on species that are easier to keep and readily available, rather than those that are cryptic and challenging.
For anyone interested in the business aspect of reptiles and herpkeeping, my sincere recommendation is to do well in school and seek out every opportunity for continued education. The more knowledge you have as your base, the more creative, intelligent and instrumental you can be in having a positive, lasting effect on the reptilekeeping community
"My strongest desire is to ensure that all first-time herp hobbyists are aware of all of the (natural habitat) elements required to get a good start. I want to eliminate the experience of unnecessary pet loss facilitated by a general lack of credible information and improper initial care. I feel it's critical that we the give hobbyists the proper tools to enhance the life span and habitat of their new pet. It's at this time that new keepers' opinions flourish, and it is the responsibility of all of us inside the industry to make sure the public gets what it needs for a positive, enjoyable first experience."
To learn more about White and CCPet Products, visit them at ccpetproducts.com. REPTILES
Advertisement