Mark Amey has had a love for reptiles and amphibians for as long as he can remember. When he opened his business, Ameyzoo, in Bovingdon, Herfordshi
Mark Amey has had a love for reptiles and amphibians for as long as he can remember. When he opened his business, Ameyzoo, in Bovingdon, Herfordshire, 16 years ago, he did so with the intention of offering quality animals that have been well-cared for. "At Ameyzoo, we believe that no animal should live in a dirty enclosure," Amey said. "We have dedicated staff working solely on cage maintenance, which can literally take all day."
---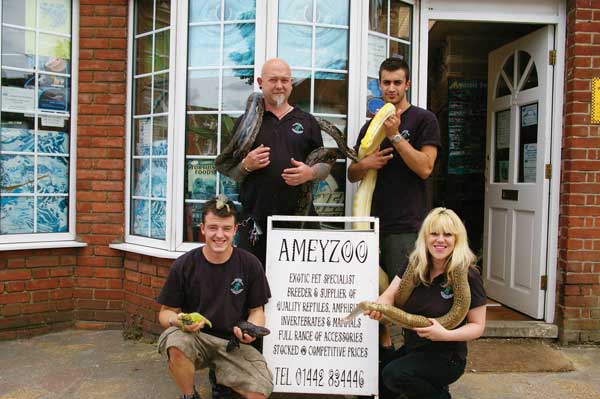 Mark Amey (top left) and Siouxsie Gillet (lower right) with the staff of Ameyzoo
---
Amey and his store manager, Siouxsie Gillet, breed and sell a large variety of reptiles and amphibians. Between the two of them, they have more than 55 years of experience, and their livestock ranges from leopard geckos and corn snakes to more challenging species, such as green tree pythons and Timor monitors. Enthusiasts can also find invertebrates and arachnids among their list of available pets.
For those who want to set up their own enclosures, Ameyzoo has just about every supply you will need, ranging from caging to décor, substrate, frozen and live food, lights and heating equipment.
"All products are tried and tested," says Amey. "If it transpires that any harm can be caused to the animal by a product, it will not be stocked. Some of the products are made specifically for us by people who also keep reptiles."
For those who are not yet confident in their ability to set up an ideal vivarium, Ameyzoo also offers that service. In fact, they will tailor the enclosure to meet their customers' needs.
Advertisement
"Customers can design an enclosure to fit on a piece of furniture, in matching wood. We also create innovative resin furniture at really low prices," says Amey.
Across the board, one thing is obvious at Ameyzoo: quality care is everything. "Animal welfare is paramount to us, and education and understanding the pets' requirements is necessary. We were listed in the RSPCA's Handle with Care campaign as a Best-Practice Pet Shop," said Amey. "Under no circumstances will we consider selling an animal to any impulse buyers."
To ensure that customers are prepared to bring home pet herps, the staff provides free care sheets and spends time educating them about the animals they wish to purchase. As a consultant for the RSPCA (Royal Society for the Prevention of Cruelty to Animals), and also for the BBC's natural history unit, Amey prioritizes the health of the animals within his care. "We believe the fundamental reason for Ameyzoo's success is our passion, enthusiasm and our knowledge in this field," he says. Next time you are in Bovingdon, stop by and experience the store for yourself.
Ameyzoo
12 High Street
Bovingdon, Hertfordshire
HP3 0HG, England
01442-834446
Ameyzoo.co.uk
Advertisement
Media Action
Mark Amey has been a consultant on several award-winning, reptile-related television productions, including Life in Cold Blood with Sir David Attenborough and Deadly 60 with Steve Backshall. You can view some of his reptile-related material in the pet section at videojug.com