Minister was performing a Memorial Day service when he was bitten.
Mark "Mack" Wolford, a venomous snake-handling minister of Full Gospel Apostolic House of the Lord Jesus in Matoaka, West Virginia, died as a result of a snakebite to his thigh while presiding over a service in the state's Panther State Forest. According to a story in the Daily Mail, Wolford, 44, was bitten by a timber rattlesnake (Crotalus horridus) around 2 p.m. Sunday, May 27, and died around 10:30 p.m., an hour after he was taken to the hospital. Wolford followed in the footsteps of his father, who also died as a result of a snakebite during a church service when Wolford was in his teens.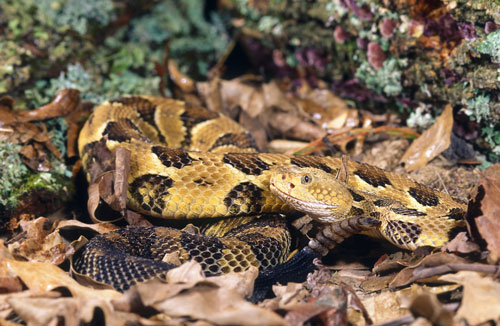 Advertisement
Thinkstock
Timber rattlesnake
According to the article, followers of Wolford's religion, considered an offshoot of Pentecostalism, take the readings from the Book of Mark in the King James Bible literally, believing that being bitten by a rattlesnake can mean several things; that the person bitten by the snake has sinned; has not lived a righteous life; or that God "was using that person as a messenger to confirm the faith and the word is true."
The timber rattlesnake can be found in the eastern United States and grows to about three to five feet. It is considered one of the most dangerous of the rattlesnakes due in part to its long fangs and prodigious venom-creating capabilities, yet has a mild disposition when compared to other rattlesnakes. It is the state reptile of West Virginia, where Wolford lived and preached, which is one of the few states where snake handling is still allowed.
Advertisement