As a volunteer of FrogWatch USA, you can help count and ID frog calls.
If you have some time and want to help preserve the local frog populations in Utica, New York, the Utica Zoo is looking for volunteer Frog Watchers as part of FrogWatch USA, a citizen science project that collects data on the breeding calls of frogs.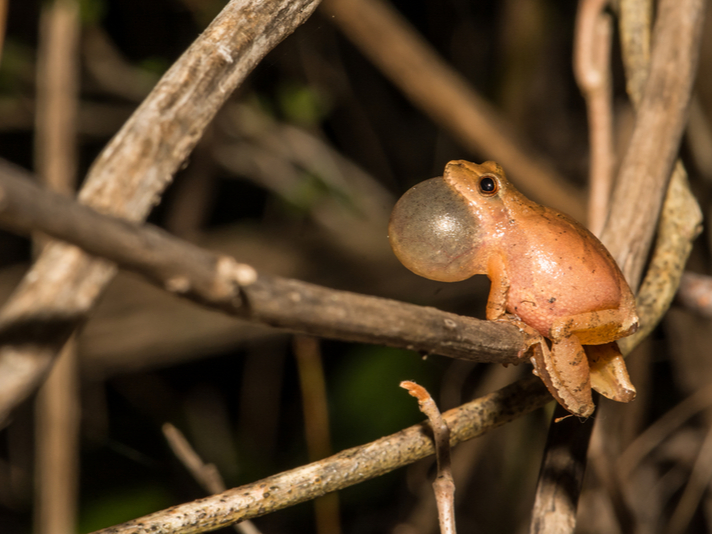 Jay Ondreicka/Shutterstock
The Northern spring peeper (Pseudacris c. crucifer) can be found throughout much of New York State.

You don't need to be a frog and toad expert to help identify the species in your area, you just need to have a desire to learn the unique frog calls that each frog species makes during mating season.
---
New FrogID App Helps Aussies Record And Catalog Frog Calls
Advertisement
---
The zoo will have two training days in April limited to 30 slots. Part 1 will be held on April 16 from 6 to 8 p.m., with part 2 taking place April 23 from 6 to 7:30 p.m.
If you are interested in attending contact Mary Hall at the Utica Zoo at (315) 738-0472. Or via email at mary.hall@uticazoo.org.
FrogWatch USA is a citizen science program that is part of the Association of Zoos and Aquariums. It gives those interested the chance to "learn about wetlands in their communities by reporting on the calls of local frogs and toads."
Volunteers go out into wetland areas from February to August and submit their frog call observations to an online national database. That information helps folks analyze specific areas and develop strategies to help conserve frogs and toads. For more information, visit the FrogWatch USA website.
Advertisement