The 51-year-old man awaits sentencing.
A biology professor at the University of Northern Colorado was called upon in 2014 to provide venomous snake expertise by the Royal Canadian Mounted Police, which led to the confession of a 51-year-old man who apparently injected snake venom into a 2-year-old child which led to her death, according to CBS News.
"There were some messages on my cellphone; one of these was from the Royal Canadian Mounted Police. And, at first, I thought, 'Okay, somebody is trying to prank me here,'" Professor Steve Mackessy, a snake expert at the university, told CBS 4. "We really didn't start working with snakes, and snake venoms, with the intent of going into forensics."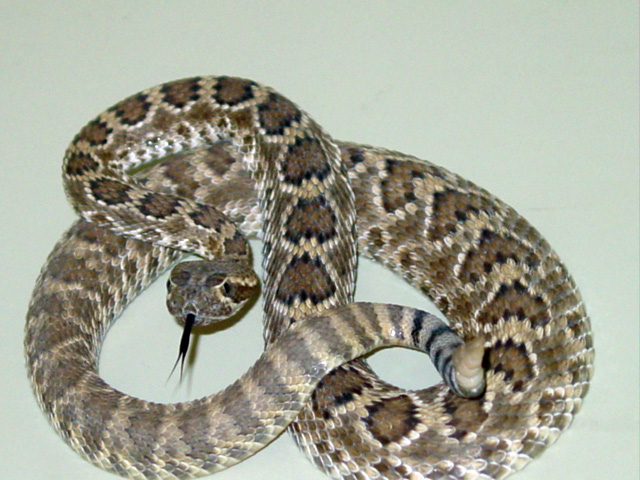 Lvthn13/Wikipedia
The mojave rattlesnake was sent to Mackessy as part of the RCMP investigation.

Advertisement
Mackessy soon found out that the calls were indeed from the RCMP and he assisted the authorities.
---
Top 10 Venomous North American Snakes
---
The initial claim by the man was that his girlfriend's daughter fell down the stairs, but the RCMP, upon investigating the child's death, believed the man injected her with snake venom. The RCMP found the man was in possession of illegally obtained venomous snakes and determined that the man, Henry Thomas, injected himself with snake venom.
"He was injecting himself with venom to stimulate his immune system," Mackessy told CBS 4.
Advertisement
The RCMP sent evidence to Mackessy in Colorado, who with a team of students, tested the evidence and identified the venoms that were found in the child's body. These venoms came from the same snakes found on Thomas' property.
"Testing confirmed that snake venom was the cause of death of the 2-year-old infant," a spokesperson for the RCMP said.
"This man administered venom to the child," Mackessy said. The man has since confessed and is awaiting sentencing in Canada.