Lizards were discovered during a herpetological expedition funded by Crown Prince of Abu Dhabi.
Two new wood lizard species were recently discovered in the rainforests of Perú by researchers with the Centro de ornitología y Biodiversidad (CORBIDI) in Lima, Perú. Both species have been described in a paper published in Zookeys. The first lizard, Enyalioides azulae was found in a rainforest in northeastern Peru and is currently known only to reside in that location. It is named after the Cordillera Azul National Park in which it was first discovered.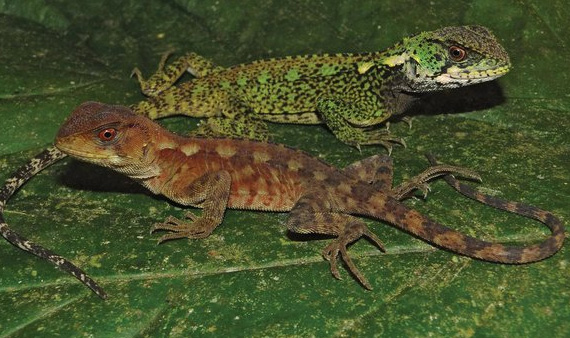 Photo by Pablo J. Venegas
Enyalioides azulae.
The second lizard, Enyalioides binzayedi, was discovered in the same river basin, the Río Huallaga, in which Enyalioides azulae was found. It was named after the sponsor of the herpetological expedition, Sheikh Mohamed bin Zayed Al Nahyan, Crown Prince of Abu Dhabi and Deputy Supreme Commander of the United Arab Emirates. The crown prince is also the creator of the Mohamed bin Zayed Species Conservation Fund.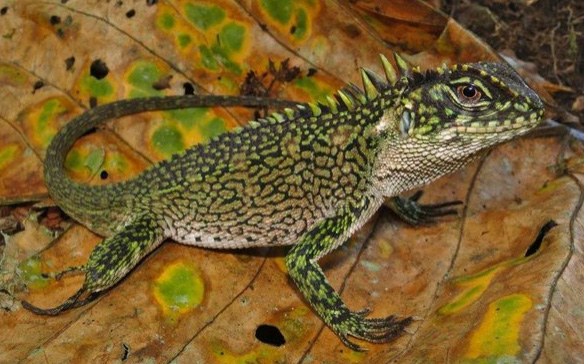 Photo by Pablo J. Venegas
Enyalioides binzayedi.
"Thanks to these discoveries, Perú becomes the country holding the greatest diversity of woodlizards. Cordillera Azul National Park is a genuine treasure for Peru and it must be treated as a precious future source of biodiversity exploration and preservation!" lead author Dr. Pablo Venegas from CORBIDI said in a news release put out by Pensoft Publishers.
Enyalioides azulae can be green and black in coloration as well as light green and brown with an orangeish cream coloration. They have a diamond spot pattern that starts at the base of the neck and ends at the tail. The lizard is just under 4 inches in length.
Enyalioides binzayedi are dark brown or black with a smattering of light green scales. The legs are brown and black as is the face. It also features spikes running down the length of its upper back ending near the tail area. Enyalioides binzayedi is just under 5 inches in length.
The full paper describing these lizards can be found here.
.