800 square foot facility is on a major road that illegal turtle traders use to get to China.
The Turtle Survival Alliance announced that Myanmar (formerly known as Burma) has opened its first turtle and tortoise rescue facility in the Zeepin Forest Reserve, in an area that the TSA says is more conducive, climate and location wise, to animal rescue efforts. The facility is located along Lashio road, a major trade route to China for illegally harvested wildlife. The Turtle Rescue Center was designed in May 2012 by TSA team members Cris Hagen (director of animal management), Bill Holmstrom (board member), Shailendra Singh (director TSA India), Kalyar Platt (director TSA Myanmar) and Rick Hudson.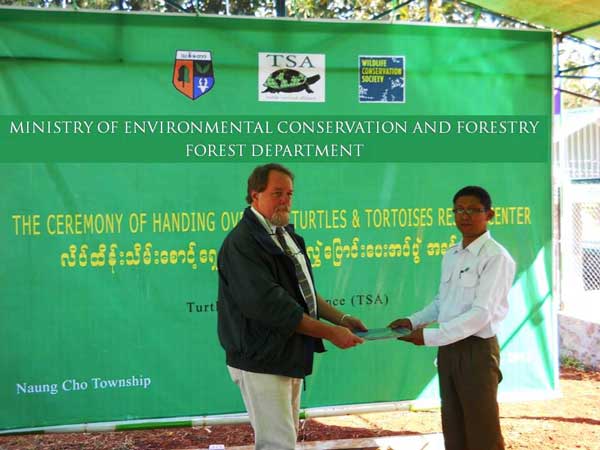 Advertisement
TSA
Turtle Survival Alliance's Rick Hudson hands over the keys to the facility to U. Myint Sein of Myanmar's Forestry Department
The 800 square foot facility is built to handle the large amount of turtle seizures in the country and will help to improve the process of caring for these animals and preparing them for release back into the wild. Previously, turtles that were seized by the Myanmar government were released without taking into consideration the habitats in which each species was native to or their physical well-being. The TRC will now ensure that rescued turtles are properly hydrated and treated for any injuries that they may have, and will be released into semi-natural as well as protected areas. The TRC will also support an assurance colony for the Burmese mountain tortoise (Manouria e. phayrei). Across a stream from the TRC is a 4,800 square foot facility still under construction that currently houses 24 adult Burmese mountain tortoises that are part of a 2007 confiscation of 76 tortoises the TSA oversaw. In addition to housing these confiscated animals, the TSA will conduct turtle husbandry veterinary care workshops. Veterinarians from zoos in Mandalay, the country's second largest city, and Nay Pyi Taw, the capital city of Myanmar, will provide support for the animals.
Those that donated to help build the Turtle Rescue Center include Pat Koval/WWF Canada, the Detroit Zoological Institute, the Natural Encounters Conservation Fund and the Taipei Forestry Bureau.