Thirty to 40 percent of the frogs in the program survived the fires.
The brushfires that have been decimating Australia the last several months did significant damage to a breeding program for the southern corroboree frog (Pseudophryne corroboree), resulting in the loss of 60 to 70 percent of the breeding animals and damage to the frog's enclosures, irrigation and monitoring systems. Three of the four disease-free enclsoures were severely burned by the fires.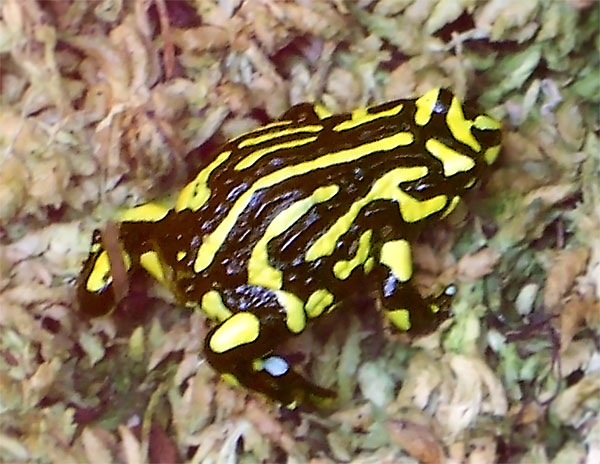 Wikipedia
The southern corroboree frog (Pseudophryne corroboree) is a critically-endangered species with some estimates of less than 150 left in the wild.

The program, headed by the Taronga Zoo and with assistance of Zoos Victoria, was launched in 2006 in an effort to bolster the populations of this critically endangered species.
Amazing footage as small population of Corroboree Frogs survive fires

An emergency team were flown into Kosciuszko National Park recently to assess the damage bushfires had caused to custom-built enclosures housing critically endangered Southern Corroboree Frogs. This included Taronga's Michael McFadden, who is the Supervisor of Taronga's Herpetofauna Division and has been leading Taronga's Corroboree Frog breeding program since 2006. Michael was joined by officers from NSW National Parks and Wildlife Serviceand Department of Planning, Industry and Environment for this important mission. Three out of four of the disease-free enclosure sites in Kosciuszko were found to have been burnt. Michael held little hope for the frogs within the enclosures, but, remarkably, around one-third of the vital population survived. #ForTheWild #SavingOurSpecies

Posted by Taronga Zoo Sydney on Thursday, February 6, 2020
"The impact of these fires is a setback to the Corroboree frog population down in Kosciuszko National Park, its a setback to the program in terms of numbers of frogs out there and also to the infrastructure that we had just right prior to the fires coming through, but overall, we can still have hope," Michael McFadden, supervisor of Taronga's Herpetofauna Division said in a. Video released to the media. McFadden has been leading Taronga's Corroboree Frog breeding program since 2006. "We'll be able to rebuild these enclosures, we'll be able to, hopefully raise enough funds to do all the repair work required."
Advertisement
---
Chytrid Fungus Threatens Frogs In Australia
---
McFadden said that the program at Taronga Zoo and Zoos Victoria will be able to produce enough eggs and frogs to restock the enclosures back to the levels they were prior to the fires.
The southern corroboree frog can only be found within Kosciuszko National Park in New South Wales. In 2011, estimates put the population of wild frogs at around 150 specimens. The females only produce around 16 to 38 eggs each breeding season.
Advertisement