Application for Android and Apple devices enables you to identify venomous snakes of North America.
The SnakeBite911 application that enables you to identify venomous snakes and offers critical snake bite first aid support as you get a victim to a hospital, is now available for Android devices. The application is available free of charge on the Google Play Store for Android devices.
SnakeBite911 helps to educate users about the most common venomous snakes found in North America and includes information sic as physical descriptions, photos and the range in which these reptiles live. It includes information on North American rattlesnakes and cottonmouth snakes, as well as a snake sighting map that enables users to view and upload snake sightings in their area.
Advertisement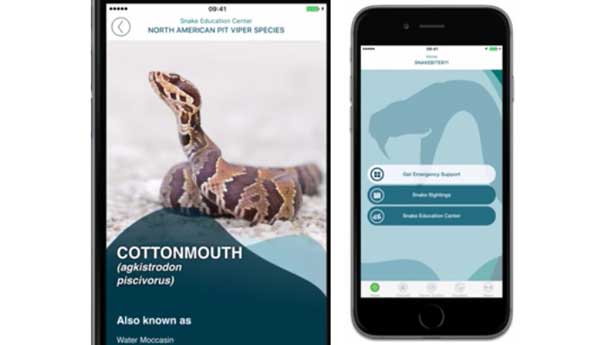 SnakeBite911
SnakeBite911 enables you to identify venomous North American snakes and offers first aid advice as snake bite victims are rushed to a hospital.

"Judging from the positive reaction from outdoors enthusiasts since launch a few months ago, SnakeBite911 is filling a void in mobile access to accurate snake education and snakebite treatment information," said Tom Logan, head of patient outcomes management at BTG. "We are excited to expand support for the app to a broader audience and continue to raise awareness of the critical importance of seeking immediate medical attention after envenomation occurs – time really is tissue."
Advertisement
When bitten by a venomous snake, the application advises snake bite victims to seek immediate medical attention, to stay calm and to get first aid as soon as possible. The app has a list of do's and don'ts when it comes to first aid, which is critical to treating a snake biota before professionals are on hand to render first aid. There is also a Venom Tracker feature that accesses the built in camera of the device so you can take photos of the bite area at regular intervals, which helps to track envenomation spread that will help the professionals when working on treatment.
SnakeBite911 is available for FREE download in the Google Play Store for Androids 4.1 and up, and in the App Store for iPhones and iPads compatible with iOS 8.0 or later. Versions of SnakeBite911 are also available for emergency first responders and emergency room healthcare professionals, and can be downloaded for FREE from the App Store and Google Play Store by searching for SnakeBite911 FR and SnakeBite911 ER.