Snake Road is closed every spring to allow migrating reptiles and amphibians to safely cross without getting hit by vehicles.
For those of you lucky enough to live near the Shawnee National Forest in Illinois, or are planning to visit the forest to go herping, be aware that Snake Road will close March 15 to May 15 for the annual snake and amphibian migration. The 2.5 mile road, which is also known as LaRue Road and Forest Service Road No. 345, closes every spring so the herps can move from the limestone bluffs to the LaRue Swamp, according to the Maryville Daily Forum.
Advertisement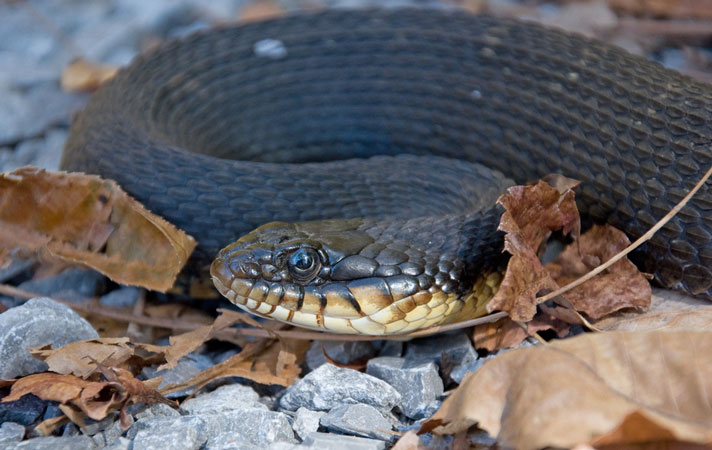 Gerald A. DeBoer/Shutterstock
A Yellowbelly water snake, (Nerodia erythrogaster flavigaster), crosses a road in the Shawnee National Forest.

The migration attracts herp lovers from all over the United States who want to see the reptiles as they slither, crawl and hop from one side of the road to the other.
---
The Natural History And Captive Care Of The Northern Water Snake
Advertisement
---
"Snakes and amphibians migrate from the bluffs to the wetlands for the spring and summer," Paul Widowski, a wildlife biologist with Shawnee National Forest told the Maryville Daily Forum. "Cottonmouths are the most common snake that can be seen during this migration."
Folks can walk the road and go herping, but unauthorized collection and handling of the reptiles and amphibians is prohibited under federal and state law.
The state is home to 35 snake species, including water moccasins, southern copperhead, blue racer, northern scarlet snake, northern and prairie ring necked snake, and southern black racers, just to name a few.
The road and the adjacent natural areas is also home to a wide variety of amphibians and turtles, including, but not limited to Fowler's toad, gray tree frog, green tree frog, long tail salamander and marbled salamanders, as well as painted turtles, eastern box turtles, and musk turtles.
Advertisement
If you'd like to go on a herping trip to Snake Road, contact the Shawnee National Forest office at (618) 833-8576.