Disoriented hatchlings were found crawling aimlessly in hotel parking lot.
More than 100 sea turtle hatchlings were saved by a Sarasota, Fla., police officer after they had become disoriented and ended up crawling around the parking lot a beach resort. Officer Derek Conley was patrolling the area and saw sea turtle hatchlings crawling on the Lido Beach Resort property, away from the ocean.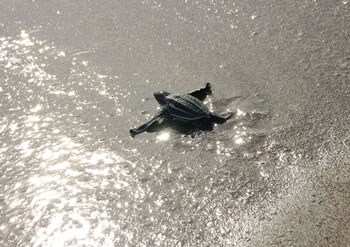 A sea turtle hatchling makes its way to the ocean. Photo by Nicolas Pilcher, Ph.D
Conley, with the help of two resort workers and some resort guests proceeded to collect close to 100 hatchlings from the grounds of the resort as well as the sidewalk and on BVen Franklin Drive. Conley stopped traffic several times on the street to rescue several hatchlings. The hatchlings were then released into the ocean. Officer Conley called Turtle Watch and Mote Marine's Sea Turtle Program and explained to them what occurred.
Advertisement
---
Want to Learn More?
Hawksbill Sea Turtles Found Foraging and Living in Mangrove Estuaries
Kennedy Brothers Rescue Leatherback Sea Turtle, Get Investigated by NOAA
Leatherback Sea Turtle Hatchlings Crushed to Death in Trinidad and Tobago Erosion Mitigation Debacle
Advertisement
---
Sea turtles nest on Florida beaches from May to October. It is illegal to touch them in any way and if anyone finds disoriented sea turtle hatchlings they should call local law enforcement or the Florida state turtle hotline at (888) 404-3922.