The PIJAC/USARK Tinley Park Summit and Auction.
Click image to enlarge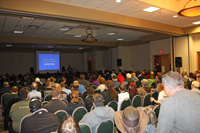 Approximately 300 people filled the room for the Tinley Park Summit that discussed current and upcoming reptile-related legislation. Photo by Ben Weiner.
On February 12, 2010, the North American Reptile Breeder's Conference (NARBC) hosted the Tinley Park Summit, which brought together the pet and reptile industries to discuss current and upcoming legislation that is aimed to restrict the keeping of reptiles and pets.
A panel of industry experts made comments and answered questions. The panel consisted of Andrew Wyatt and Todd Willens of the United States Association of Reptile Keepers (USARK); Jaime Reaser and Marshall Meyers of the Pet Industry Joint Advisory Council (PIJAC); Bill Brant, owner of The Gourmet Rodent and member of PIJAC's Board of Directors; Adam Wysocki, President of The National Pet Association (NatPET); and Eugene Bessette, owner of Ophiological Services.
The Summit consisted of two parts. The first part discussed the legislative and regulatory issues concerning reptiles for 2010. The second looked at how the reptile community could respond to proposed laws and regulations in a timely manner.
Approximately 300 people crowded into the room and filled just about every seat. The summit lasted more than 2½ hours. NARBC's Bob Ashley introduced the panel. Because of weather issues, Reaser, Meyers, and Wysocki phoned in.
Part One
Wyatt was the first to speak. He summarized the various legislation and regulations that came in 2009, such as H.R. 669, H.R. 2811, and S. 373, and discussed what these bills targeted, and also how they were fought. He called on each individual to be more involved with state issues. "State laws can establish important precedent for the rest of the country," he said. "This is currently seen in Florida."
Brant was next up and called for a unified front of PIJAC, USARK, NatPET and the Association of Zoos and Aquariums (AZA). He hosted a PowerPoint slideshow presentation, which discussed the various efforts of PIJAC. He said that one of the important things that PIJAC is doing is being proactive. They have launched several programs and campaigns including Habitattitude, the National Reptile Improvement Program (NRIP), Bd-Free 'Phibs, and Don't Mess With My Pet.
According to Brant, PIJAC statistics show that since January 2009 some 85 bills in 23 states and four bills in Congress have been reptile-related.
Advertisement
Wysocki touched on the need to bring dog and cat owners into the mix. "Every pet owner should understand the connection we have with our pets," he said.
Panel members discussed the idea of proposing reptile and amphibian species to be listed as domesticated animals. They contend that breeders are many generations away from wild-caught animals. Proposing a new animal for inclusion as domesticated presents a new set of problems, however. For one, the focus switches from the United States Fish and Wildlife Service to the Department of Agriculture, and that can lead to even more restrictions, regulations and potential legislation than the industry is currently seeing.
Of special interest was a comment regarding feral Burmese pythons in the Everglades. Panelists noted that though there are no concrete scientific studies as of yet, early numbers have shown that 50 to 90 percent of the feral Burmese pythons in the Everglades died in the recent freeze in Florida. These are still early numbers, however, and the reptile industry is waiting for a scientific study to verify these numbers. But, if these early numbers are used as a base, it warrants the question as to whether Burmese pythons in the Everglades are actually a problem anymore.
Part Two
Meyers said that there is a need to better educate our legislators about reptiles and reptile ownership. "We need to reach out and do this on an ongoing basis and not wait for the next federal or state law to come around," he said. "Let's get a dialogue going."
Advertisement
Bessette stressed the need to get involved with local herp societies, and to start new societies in regions that are lacking them.
Sandy Quinn, REPTILES Sales Manager, said that every reptile owner should talk to and educate people outside the reptile community.
Audience member Bill Zeigler, a former zoo curator and AZA committee member, said there is a strong need to educate editors. He advised listeners who recognize inaccuracies in newspaper reports to contact editors, most often the science editor, and educate them. "They'll be happy to hear your side," he said. "They'll look a little closer at the next article they receive from one of their reporters, or the AP, about reptiles."
In closing, Reaser gave everyone a homework assignment: Look up "Elevator Speech" and learn how to write a good one. An elevator speech, or elevator pitch, is a planned, concise, rehearsed speech, which can be delivered to someone in the time it takes to ride up an elevator. Reaser said that the subject of the elevator speech should be, "Why large constrictors are important," and that you should write out your elevator speech and practice it and present it to everyone you know. This speech with then always be ready whenever you need to educate someone.
Advertisement
Click image to enlarge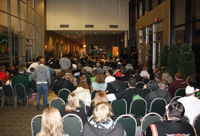 Some 400 people made it out to the Tinley Park Auction that benefitted PIJAC and USARK. Photo by Ben Weiner.
Auction
The auction to benefit PIJAC and USARK was held on Saturday, February 13. There were more than 400 people in attendance. The goal was to raise $25,000 to be split between the two organizations.
Some notables from the show were:
Rodent Pro donated $5,000 worth of product to the auction. It sold for $5,250 to Reptiles By Mack, an amount that was then matched by Rodent Pro for a total donation of $10,500.
Advertisement
A scaleless female yellow rat snake from Bill Brant of The Gourmet Rodent was auctioned off for $1,100 to ReptMart.
$1,000 worth of banner ads on ReptileChannel.com also went to ReptMart for $1,000.
$1,000 worth of banner ads on Kingsnake.com went to JMG Reptiles for $800.
The total raised after auction sat at approximately $25,000. Timberline then made a donation, putting the total raised to an even $30,000. PIJAC and USARK will split the money evenly, with $15,000 going to each organization. Zoo Med Laboratories then matched the $15,000 going to USARK, as part of that company's ongoing USARK donation matching program.
Advertisement